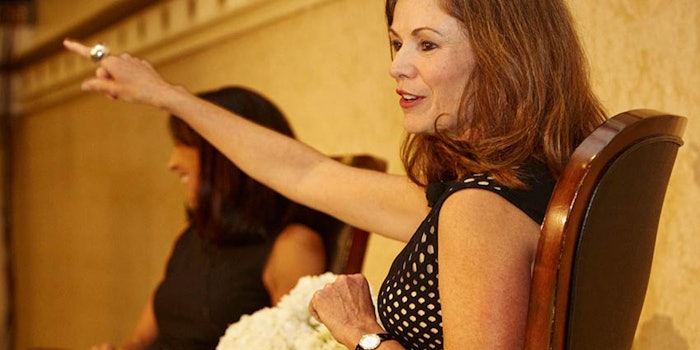 "Ulta had a brave marketing strategy in the United States, creating three unique shopping environments for mass, prestige and salon," Jeffrey Ten recently wrote in Global Cosmetic Industry. Indeed, the retailer's unique approach paid off.
Ulta Beauty's sales continue to grow, despite the fact that so many retailers are closing doors and scaling down. In 2016, Ulta brought on board brands such as co-washing leaders Unwash, crowdsourced beauty innovator Julep and acne care giant proactiv.
"We don't do anything unless we're sure our guests want it," Dillon noted.
At the same time, the retailer has added 100 stores and expanded its loyalty base to more than 20 million, and boosted sales by 23% for the first half.
How is this possible?
To get some answers, CEW chairwoman Jill Scalamandre (president, Global Makeup Center of Excellence, Shiseido Americas Corporation) spoke with Ulta CEO Mary Dillon as part of the organization's transformational leadership forum.
Retail Refresh
Dillon, who took helm in 2013, came from outside the beauty world, having previously held roles in food and telecom. What united her experiences, she explained, were consumer-driven strategies.
The CEO noted that Ulta Beauty had an advantage from its inception by being off-mall and having a wide product assortment of brands and service offerings mixed into retail. When Dillon joined the company, her goal was to leverage these advantages while investing in infrastructure and supply chain to support rapid growth.
What's Ulta?
One of Dillon's core missions was to enhance consumer awareness of the retailer. Currently, Ulta has only captured 5% of all beauty spenders, representing a significant opportunity for further growth.
Ulta has also educated its guests regarding its loyalty program and recently launched its own credit card.
"It's all about newness," she added.
"We don't do anything unless we're sure our guests want it," Dillon noted.
As Ulta evolves its marketing mix across platforms, it hopes to boost its top-of-mind awareness out of the 40% range and overall awareness (currently in the low 80% range).
Meet the Beauty Entusiasts
Dillon noted that Ulta's segmentation scheme has shown that half of sales go to so-calle "beauty enthusiasts" on budget. But who is she?
Dillon's answer was simple: "It's about a mindset, not a demographic."
The beauty enthusiast, according to Dillon, loves new, trendy products. She also likes to mix different types of brands, including small, emerging players, as well as the largest global brands. 
"It's all about newness," she added.
Beauty starts on the phone.
Beauty enthusiasts like to shop in a fun, low-pressure, open-sell environment. They're highly self-directed and draw heavily from research and social media influencers.
As Dillon spoke, it became clear that Ulta represents a fragmentation of beauty shoppers across categories. Its beauty enthusiasts shop at many retailers (though less often at drug or department channels) other than Ulta and don't neatly fit into any single demographic definition.
She is merely a person who loves beauty in-store and online.
Mixing it Up
Ulta Beauty's product array freely mixes categories, brands and pricepoints, which have evolved to include more prestige, which is no wonder since the prestige beauty category is growing rapidly.
Guests love it, Dillon said.
As a result, the CEO has revamped company to focus less on chasing pricepoint and more on achieving the right brand mix that entices consumers without deep discounts. Enter: the beauty enthusiasts.
"Shopping in person isn't going away."
But what does Dillon look for in brands? The CEO noted that she looks for brands that can partner with Ulta, those that think in multiyear terms, as well as brands offering exclusives and first-to-market products.
Curating a compelling mix of brands requires an innovative, creative and entrepreneurial group at Ulta, Dillon explained, as well as a strong assortment of in-store and guest services.
These services "animate the stores," Dillon noted, and offer strong growth potential since only about 7% of Ulta loyalty members currently use offerings such as the hair salon.
Services also distinguish and protect Ulta from the digital space. As Dillon noted, "you can't get a haircut at Amazon."
Omnichannel Matters
In the latest quarter, Ulta's e-commerce sales grew 54.9% to $55.9 million, up from $36.1 million in the second quarter of fiscal 2015.
Beauty starts on the phone, Dillon said during the CEW event. That's where the shopper's path begins.
She added, "Shopping in person isn't going away," however, because it's fun and beauty shoppers like the convenience of the physical store. Still, the company is evolving its digital offerings such as shoppable content.