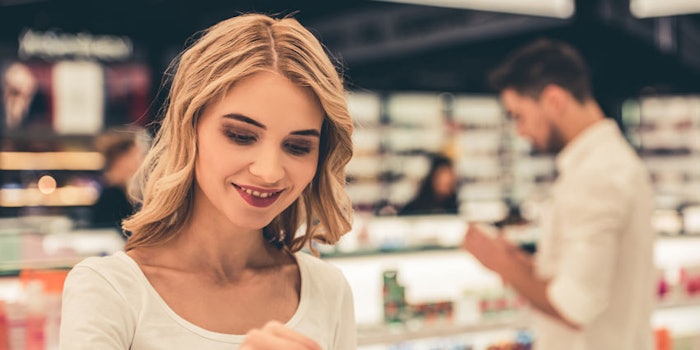 The beauty industry may be experiencing a dizzying digital revolution, but the physical retail space is still the top preference for U.S. consumers. 
According to the recent a survey conducted by Opinion Research on behalf of the International Council of Shopping Centers (ICSC), Americans spend over $62 billion on the cosmetic industry and seek physical retail destinations when shopping for beauty products. 
The ICSC Cross-over Consumer Survey states:
Where they shop:
74% at discount department stores (such as Wal-Mart, Target, etc.)
65% at pharmacies (such as TJ Maxx, Marshalls, Kohl's, etc.)

50% at mid-price department store retailers (such as Macy's, JC Penney, etc.)
A reflection of shopping habits for cosmetics, beauty aids and fragrances:
People shop at four to six different types of retailers for beauty related products
40% of Millennials buy beauty related products very often (at least once a week) and
44% buy those products in-store only
40% of people shop in-store only or both instore and online
64% of those who shop online from discount department stores pick the product up in stores
Keeping up appearances:
53% of men and 55% of women buy beauty related products at least once a month
53% of men and 61% of women buy beauty related products in-store only
82% of men pick-up beauty related products in-store compared to only 54% of women
Global Cosmetic Industry spoke with ICSC spokeswoman, Stephanie Cegielski, for more insight on the survey. 
Global Cosmetic Industry (GCI): Expand upon the role of the shopping center in the burgeoning omnichannel ecosystem--how does ICSC see physical retail's place in the wider context?
Stephanie Cegielski (SC): Today's consumer expects a seamless experience across both physical and digital channels. There's no question that the industry is evolving, however, it is not at the expense of retail real estate. Properties are now setting aside space for people to collect items they have purchased online. This is happening both within the retailer's space as well as at specific locations within malls and shopping centers.
What we are seeing time and time again is the retailers who embrace the convergence of physical and digital are the ones who will get ahead in the changing marketplace. This is why more pureplay online retailers are opening physical locations to expand their consumer base.
GCI: Besides general "experience" and pick up in store type programs, what are the other drivers of traffic?
SC: Going to the store is something that will never be replicated through online shopping. On top of experience and click-and-collect, being able to see the products and test them in-person prior to purchase along with immediacy of receiving the product also drive traffic to the stores.
This particularly rings true in the cosmetics space. Retailers like Ulta and Sephora are experiencing incredible success due to their physical footprint and offering consumers the ability to see and try the products prior to purchase. Additionally, the technology they are implementing in-store allows for more customer interaction with products that leads to additional sales.