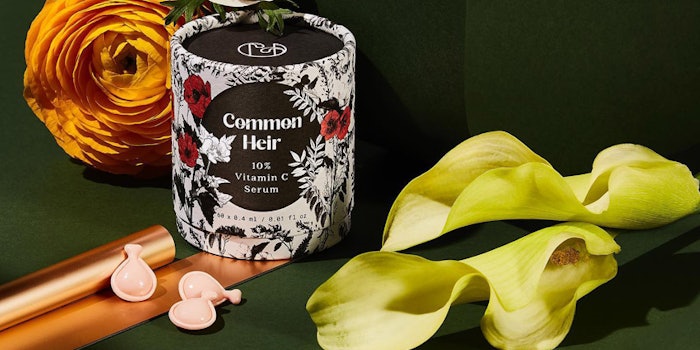 Common Heir has announced it will be joining Credo Beauty's collection of clean and sustainable brands, available nationally in-store and online.
Previously: 13 BIPOC Brands Selected for Credo for Change
Common Heir's relationship with Credo began in 2020 when the founders were named to the Credo for Change Mentorship Program. The program's goal is to facilitate BIPOC (Black, Indigenous, and People of Color) founders in areas that will prepare the brand for larger distribution in retailers or direct-to-consumer.
Common Heir, founded by Angela Ubias and Cary Lin, is the first and only brand from the Credo for Change 2020 program to be introduced into the clean beauty retailer.
Global Cosmetic Industry recently spoke with Angela Ubias ahead of the brand's announcement. 
As recipients of Credo Beauty's Credo for Change Mentorship Program in 2020, how did that help you launch Common Heir in April 2021?
Angela Ubias [AU]: The program provided mentorship and key learnings in functional areas for Common Heir. Even hailing from extensive beauty industry backgrounds, Credo For Change opened doors for us and provided a community that we may have not had access to before. We consulted with the Credo team and the agencies that they had at their disposal that helped us hone in and refine our brand voice in a unique way. We also looked to Credo as industry leaders and used their standards as a platform to push our mission even further as a brand, and evolve the formula and format to become best in class.
How does Common Heir set itself apart from other beauty brands?
[AU]: Common Heir is on a mission to prove that plastic-free, high-performance skin care can be a truly luxurious experience without any tradeoffs. We formulate with intention and a commitment to best-in-class ingredients that follow Credo's example setting standards and guidelines. Our premiere product, our Vitamin C serum is made with exceptional ingredients including 10% THD (our oil-soluble and gently potent form of vitamin C) and marshmallow and licorice roots. The capsules are made from natural materials that are are readily biodegradable and dissolves in water (OECD 301F). Our paper packaging is 100% recyclable, plastic-free and can be repurposed on your vanity after use. We've used our first formula to show that luxury can be sustainable and beautiful. 
What does the future look like for Common Heir?
[AU]: We plan to continue to build Common Heir's product range while maintaining our high standards of formulation and completely plastic-free packaging, all while taking cues from our community. We want to meet our customers where they are with what they want to see us create while always being good for your skin and better for the environment. We created Common Heir for the beauty lover who wants to make more sustainable choices, but does not want to compromise quality or effectiveness of their skincare. We'll continue to disrupt the industry and push for change and hope to see sustainability and conscious beauty become the expectation and not the exception.
What does it mean to you as a new beauty brand owner for you to have your products available at Credo Beauty?
[AU]: It is a truly full-circle moment for us. To have an industry leader like Credo intent on partnering with us and to have had their support from the early days of Common Heir with the Credo for Change program is incredible. We're thrilled to have our first product placed within the largest and most notable clean beauty retailer in the industry. This allows us to get our brand and mission in front of an audience we already know it will resonate with and help us expand our vision of high impact skincare that has a low impact on the environment.