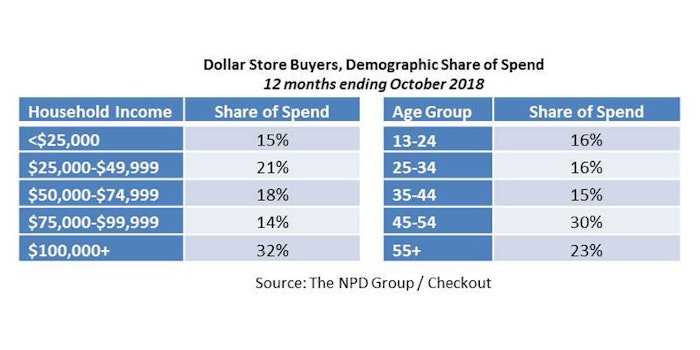 With 2019's economic growth predicted to be on the slow side, dollar stores are a growing opportunity for beauty and personal care brands to explore. 
According to The NPD Group, more than four in 10 consumers said they planned on shopping at a dollar store during the 2018 holiday season. In fact, NPD's Checkout, a receipt mining service, found that Dollar General, Dollar Tree and Family Dollar, are gaining popularity, with the number of buyers increasing 3% in the 12 months ending October 2018, compared to last year.
NPD's Checkout information also states there has been an increase in the average spend per buyer from $165 to $171, resulting in 7% growth in overall consumer spending at dollar store retailers. 

"Dollar stores' old bargain-based reputation is now more about value and variety, expanding their reach among consumers," said Marshal Cohen, chief industry advisor, The NPD Group. "Especially during the holiday shopping season, time-starved consumers are attracted to one-stop retailers that help them minimize the surge in their spending."
Cohen added, "The successes dollar stores are seeing at brick-and-mortar, and watching how it unfolds as the holiday season wraps up, will tell an important story about the state of retail. In a world where online continues to threaten the livelihood of physical stores, dollar stores are proving brick isn't dead as long as it delivers the right balance of value to the consumer."