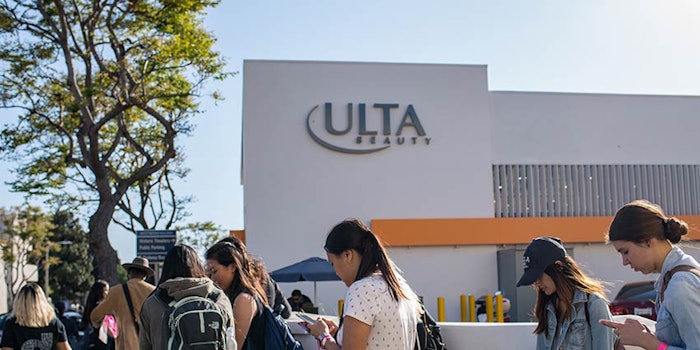 Ulta Beauty has announced Q3 and nine-month 2019 results, reflecting the slowdown in makeup, which comprises about 50% of the retailer's business. As a result, the retailer is expanding skin care, eyeing growth in fragrance and deepening discounts amid the holiday season. The company's e-commerce results, meanwhile, could expand by as much as 30% by year's end.
Data: Teens' Favorite Beauty Retailers
Previously: Ulta's Q2 2019 Results
Related: Kylie Cosmetics & the Makeup Downturn
"Our differentiated model is winning in the marketplace," said Mary Dillon, CEO. "The Ulta Beauty team delivered another quarter of solid top-line performance, gross margin expansion, and EPS growth, despite the current challenges facing the U.S. cosmetics category. We continue to gain market share across all major beauty categories, and we are extending our leadership position by creating stronger connections with our guests and engaging with them in better and more exciting ways."
Year-over-year net sales rose 7.9% from $1.6 billion to $1.7 billion. Comparable store sales open at least 14 months rose 3.2% for the period, compared to a gain of 7.8% in the same period of 2018. About 2.3% of that gain was derived from transaction growth, while 0.9% was driven by growth in average tickets.
Gross profit reached 37.1%, compared to 36.7% in the same period of 2018 due largely to improved merchandise margins.
Operating income in Q3 2019 was $167.8 million, or 10.0% of net sales, compared to $169.2 million, or 10.8% of net sales, Q3 2018.
Nine-month Results
Nine-month 2019 net sales rose 10.9% year-over-year to $5.1 billion; comparable sales increased 5.4%. Year-over-year gross profit increased slightly to 36.8%.
Nine-month net income increased to $483.2 million, compared to $443.9 million in the first nine months of fiscal 2018.
Store Expansion Slows
Q3 witnessed 31 new store openings, three remodels and two relocations, a year-over-year decline. Year-to-date, Ulta Beauty has opened 73 new stores, conducted 12 remodels and made six relocations, a year-over-year slowdown. To date, the company has 1,241 stores.
Skin Care on the Rise
"[We]'re leaning into categories that are experiencing stronger growth," Dillon noted in a conference call. "For example, the skin care category is seeing nice growth in both the prestige and the mass segments. The category has experienced meaningful newness and brands innovation in terms of new brands, new products and new routines and we're seeing that the Gen Z demographic is more engaged in skincare than other cohorts were at the same age, which bodes well for longer-term growth of the category."
As a result, Ulta has added 30 skin care brands to its array, expanding both mass and prestige. The company has also expandied its skin bar concept into more than 100 shops. The retailer of course also offers skin care services from estheticians, including express facials.
Dillon concluded, "As a result of all these efforts, new brands, increased marketing and expanded skin services, we've continued to increase our market share of the U.S. skin care category."
Fragrance & Hair Also Opportunities
Dillon also noted that fragrance and hair care sales are rising in the United States, while makeup continues to downtrend as a result, the CEO argued, of a cyclical innovation lull.
Discounting an Issue
Discounting is on the rise in beauty, creating dangerous cycles for brands and retailers. Ulta is not immune. Scott Settersten, Ulta's CFO, treasurer and assistant secretary, noted, "[W]hat we've seen with the ratcheting up really in the overall retail environment right now with the kind of ... compressed shopping season, we're starting earlier, we've got deeper discounts across the board, and it just remind[s] everyone that in the holiday season, unlike in the rest of the three quarters of the year, we compete with everyone in retail for wallet share, right, in the gift-giving period."
A Look Ahead: Full-year 2019
Ulta Beauty anticipates:
Boost sales by 10%, revised from a range of 9-12%

Achieve total sales growth of 4.7-5.0%, compared to an original assessment of 4-6%

E-commerce sales growth of 20-30%

Opening about 80 new stores, as well as undertaking 20 remodel or relocation projects, while completing approximately 270 store refreshes