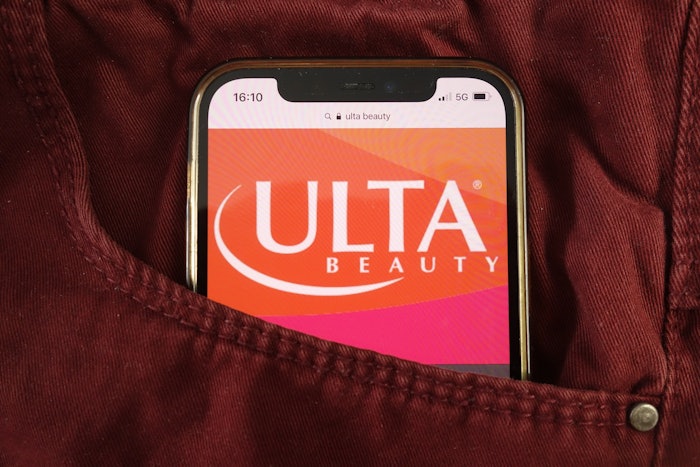 Ulta Beauty, Inc. has reported fourth quarter fiscal 2021 (13 weeks ended January 29, 2022) net sales of $2,729.4 million, up 21.4% year over year, and fiscal 2021 (52 weeks ended January 29, 2022) net sales of $8,630.9 million, up 37.9%, year-over-year.
Results were driven in by stronger consumer confidence, government stimulus payments (since discontinued) and fewer COVID-19 restrictions compared to 2020.
The retailer has issued a fiscal year 2022 sales forecast range of $9.05-9.15 billion.
In the fourth quarter, comparable store sales increased 21.4%, year-over-year, while net income increased to $289.4 million compared to $171.5 million in the fourth quarter of fiscal 2020. 
For full-year fiscal 2021, Ulta noted that net income increased to $985.8 million compared to $175.8 million in fiscal 2020. 
Report: Ulta Beauty at Target Expands
During fiscal 2021, Ulta opened 48 new stores, relocated seven stores, remodeled nine stores, and closed four stores. By the end of fiscal 2021, the company operated 1,308 stores.
"Our fiscal year ended with better-than-expected performance, reflecting excellent, enterprise-wide execution against our fourth quarter plans as well as stronger consumer demand and the strength of Ulta Beauty's differentiated model," said Dave Kimbell, chief executive officer. "I want to express my sincere appreciation to all Ulta Beauty associates who continue to provide exceptional care and service to our guests and to each other, while successfully navigating pandemic-related challenges and delivering strong results for all our stakeholders."
Kimbell added, "The beauty category is healthy and growing, and we are confident the recovery that began in 2021 will continue, as consumers maintain their self-care routines, become more resilient to COVID surges, and engage in more leisure and social activities. Our outlook for fiscal 2022 reflects our expectations for beauty growth as well as the challenge of lapping exceptional performance in fiscal 2021, ongoing wage and supply chain cost pressures, and investments in new capabilities to support future growth."
He concluded, "Despite the expected challenges, I am more excited than ever about the opportunity for Ulta Beauty to grow and continue to lead the beauty category. We are emerging from the pandemic as a stronger, healthier business, we operate in an attractive and growing category, and we have an exceptional team in place to execute our ambitious plans and deliver for our guests, associates and shareholders."