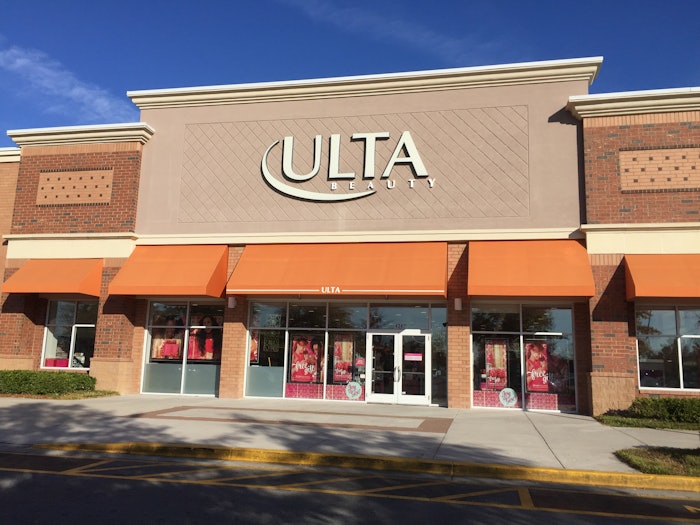 Ulta Beauty's first quarter 2022 results show net sales were $2.3 billion, compared to $1.9 billion in the previous year.
"From a category perspective, fragrance and bath, hair care, makeup and skin care all delivered double-digit comp growth against the first quarter last year," said CEO Dave Kimbell in an earnings call. "Importantly, sales of makeup exceeded pre-pandemic levels in both mass and prestige cosmetics. The makeup recovery is progressing faster than we expected coming into this year ... From a trend standpoint, foundation, concealers, eyeliners, and lipstick continue to deliver strong comp growth."
New brands also drove growth in makeup, including Fenty Beauty, r.e.m. Beauty by Ariana Grande and Treslúce, as well as new products from Clinique, Lancome, NARS, e.l.f. and NYX.
Kimbell noted, "In addition, this quarter, we expanded MAC into 233 additional stores and introduced Chanel Beauté into 104 stores"
As for skin care, Kimbell explained, "[S]kin care delivered another quarter of strong double-digit sales comp on top of robust double-digit growth in the first quarter last year. Moisturizers, eye serums and acne treatments continue to drive category growth in the quarter. We also saw strong growth in sun protection and self-tanning that consumers increased travel and social activities."
Skin care results were boosted by new brands at Ulta, like Drunk Elephant, Fresh, SuperGoop! and Good Molecules, as well as new products from Tula, StriVectin and First Aid Beauty.
Kimbell added, "Hair care delivered another quarter of double-digit growth, driven by strong guest engagement with newness and our core assortment, as well as successful salon back bar takeover events. Trends focused on hair health like damage repair, color care and scalp treatments continue to resonate with guests and interest in hair styling aids increased with the rise of social occasions."
New brands and product launches drove growth, including brands like Olaplex, Ouai, Briogeo and Dyson's Airwrap.
Kimbell noted, "Consumer strong engagement with the fragrance category continued, driving double-digit growth on top of a phenomenal results last year ... The in-store launch of Ulta Beauty exclusive Billie Eilish, as well as newness from Gucci and Carolina Herrera resonated with guests, and our monthly fragrance crush program drove growth for established brands like YSL and Valentino."
The executive explained that there are more than 280 brands that are now certified under at least one pillar of Ulta's Conscious Beauty program.
Ulta also focused on introducing BIPOC-founded brands like BeautyStat, Rosen Skincare, Fenty Beauty, Tresluce Beauty and Mielle Organics, while expanding Black Girl sunscreen into all stores.
Finally, Kimbell noted that Ulta has expanded its wellness shop to an additional 266 stores, now reaching about 55% of its doors.
Q1 Details
Gross profit increased to $941.0 million, compared to $753.8 million in the previous year.
Operating income increased to $437.7 million, compared to $305.3 million in the previous year.
Net income increased to $331.4 million, compared to $230.3 million in the previous year.
CEO Dave Kimbell said, "The Ulta Beauty team delivered exceptional first quarter results, with better-than-expected sales and earnings growth, supported by double-digit comparable sales growth across all major categories. Solid execution of our strategies, paired with strong guest demand, fueled our financial performance and continued market share gains as we delighted our guests with exciting brand launches within our one-of-a-kind assortment and differentiated guest experiences."
Fiscal Year 2022 Updated Outlook
Ulta Beauty has updated its fiscal year 2022 outlook which projects net sales to be $9.35 billion to $9.55 billion. The previous outlook projected net sales to be $9.05 billion to $9.15 billion.