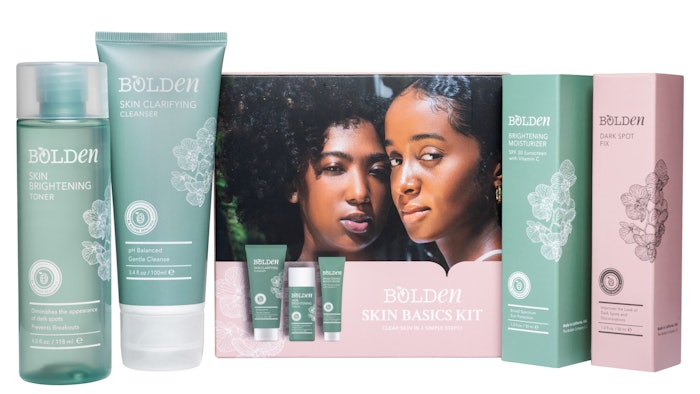 Bolden is now available at more than 1,000 Walmart stores nationwide. 
The Black-owned, women-owned brand provides accessible science-backed products that work on melanin-rich skin, a gap in the skin care market.
Founders Chinelo Chidozie and Ndidi Obidoa exclusively sold the vegan and cruelty-free skin care line on Amazon, Costco.com, boutique beauty suppliers and the Bolden website. 
Bolden has now curated a collection of five products for Walmart customers including three of its top-selling products: a Skin Clarifying Cleanser, a Brightening Glycolic Acid Toner and an SPF 30 Brightening Moisturizer in new and exclusive sizing, along with the debut of their Dark Spot Fix, which can only be found at Walmart.
Customers can also purchase the Skin Basics Kit, which includes the cleanser, toner and moisturizer.
Chidozie said, "Ndidi and I are very excited about our Walmart partnership, and the opportunity it presents. It's a major milestone for us in our mission to make the beauty space more inclusive. Our goal as always is to formulate high-quality skin care products that target the unique skin care concerns of Black women like ourselves, and importantly, to offer them at affordable prices. As Walmart shoppers ourselves, we appreciate Walmart's dedication to diversity in all aspects of its business."