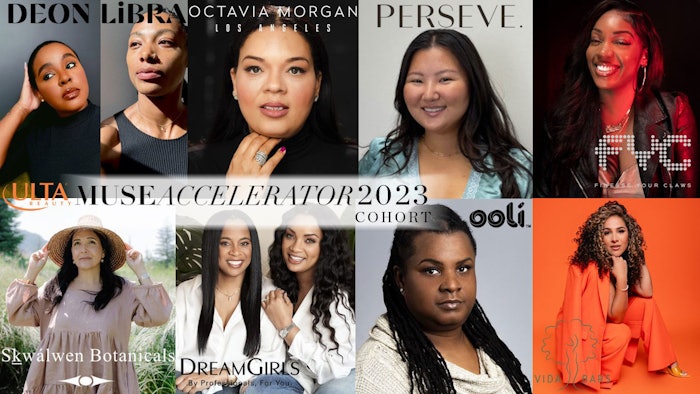 Ulta Beauty's 2023 Muse Accelerator cohort has been announced, featuring eight early stage BIPOC beauty brands that will take place in a 10-week curriculum, mentorship and funding program to drive growth and prepare for retail distribution. 
In the hair category, the largest sector represented in this year's cohort, leaders taking part include Jessica Pritchett of Ooli, a plant-based, unisex hair care system formulated for locs that is leaping bunny certified, sustainably developed and manufactured in the United States, as well as Ana Nuñez of Vida Bars, a range of solid hair care products formulated for various texture types.
Also taking part are Sharie Wilson and Tonya Thompson of DreamGirls, a five-step system to support the growth and health of Black women's natural hair, as well as Olivia Bae and Hyeri Sung of Perseve, a hairstylist-inspired range of accessibly priced prestige hair care.
The skin care sector is represented by Devin McGhee Kirkland and Brit Kirkland of Deon Libra, a wellness brand focused on adaptogenic stress care for the skin, as well as Leigh Joseph of Skwalwen Botanicals, a plant-based skin care brand.
Octavia Morgan, founder of the eponymous unisex fragrance and beauty product brand, is also taking part, as is Melissa Samuel of FinesseYourClaws, a design-forward press-on nail brand.
Participants will get a crash course in omnichannel retail 101, brand strategy and positioning, product development, and financial planning and expense roadmapping.
Ulta Beauty, Meta, TikTok, Métier Creative and True Beauty Ventures executives will offer mentorship as part of the program, as will leaders from Good Light, Youthforia, Kreyòl Essence, Hero Cosmetics and more. 
"We're excited to welcome our 2023 Muse Accelerator participants to the Ulta Beauty family," said Monica Arnaudo, chief merchandising officer, Ulta Beauty. "As retail leaders and brand builders, we have a responsibility to create space and opportunities for all brands, particularly those who have been underrepresented to thrive in our industry and nurture an inclusive assortment that reflects the beautifully diverse community we serve. This year's participants are a shining example of the bright future of beauty, and we can't wait for the world to meet them."