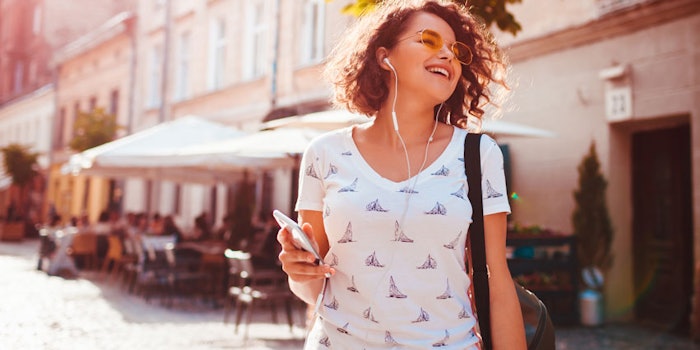 Technology enables brands to reach consumers where they live, work and play. But the real innovation is how companies leverage that technology to create products and services that sync with and elevate our way of life. From Alexa to smart vending machines, platforms that are embedded in consumers' lifestyles are at the forefront of this movement and enable brands to reach consumers wherever they are throughout each part of their day. It's called contextual commerce and it's where retail is heading.
What is Contextual Commerce?
Think of contextual commerce as in-the-moment retail, or a way to infuse greater context into a shopping experience and catch a consumer at the precise moment of need. For example, a sample of a lipstick will resonate more if you're in the bathroom of your coworking space than if you're on your way into the gym.
Brands that are doing this well are reaching potential customers out of the store, offline, and out of the home. They are right there at the moment of need or want, and by taking advantage of advance in retail technology, companies are creating that stronger connection between brands and consumers. Here is how retail technology is adapting to the way we live.
24/7 On-demand Shopping
Consumers want convenience. Improved shipping and inventory technology has led to same-day delivery, curbside pickup, and buy online, pickup in-store features. Amazon's ease of purchase, low-priced shipping and ubiquity of pickup at lockers at locations like Whole Foods has become the standard. As retailers increasingly promise and deliver what customers want, when they want it, there is a heightened baseline of expectations.
What's next: New technology platforms like retail vending machines allow people to buy something instantly exactly where they are without having to search for store hours or hope for fast and free shipping. This is the ultimate perk for college students and entrepreneurs, who are known for working off-peak hours.
The New Impulse Buy
We are all shopping all the time. On-demand beauty services like Vensette and Glamsquad deliver seamlessly and immediately on our wants. For impulse buys and purchases that aren't motivated by a direct need, visibility is key to reaching consumers.
As Donald R. Lichtenstein, a professor of marketing and associate dean at the University of Colorado Leeds School of Business, has said, "Seeing is buying."
Advertising works, but product integration is even more vital. Think iPad-enhanced airport dining, and smart vending machines that showcase your product and catch consumers at every point of their life at the exact right moment.
Curated Experiences
Access to technology gives people unlimited choices. To engage customers, curating a selection of must-have products eliminates decision fatigue and entices them to try new brands.
There is, of course, the rise of digitally native brands that are focused exclusively on curated subscription boxes, such as Birchbox and Onyx Beauty Box. But improved data analytics has given brands the opportunity to personalize the shopping experience. Companies like StitchFix and Ipsy Beauty leverage technology and data to learn more about what you like (and what you don't) to select products for you. Sephora has taken trial high-tech; its latest app allows customers to try before they buy virtually. When it comes to beauty, custom data is king.
Sampling 2.0
Sampling is an obvious way to get new products into consumers' hands when they need them most. Beauty counters were early adopters of this marketing technique. E-commerce companies have moved the needle forward and leveraged targeted data to have the best samples show up in your home.
Now, new technology has empowered brands to offer samples throughout all points of a consumer's day. For instance, Revlon offered an exclusive lip color trial targeted to the coveted market of 18-34-year-olds at gyms, dorms and coworking spaces—contextual commerce at its finest.
A Product Becomes More Than a Product
Technology helps brands engage with their consumers by offering immersive shopping experiences. The real changemakers think beyond the product and focus more on how the retail platform can become a space for socializing and creating community.
How does their product spark a conversation? How can you include the consumer in the vision of the brand? Look at collecting email addresses and digital marketing to get feedback and involve the consumer. It personifies the product.
_____________________________________
Brian Shimmerlik is the CEO of Vengo Labs, creator of mini, compact and high-tech vending machines.