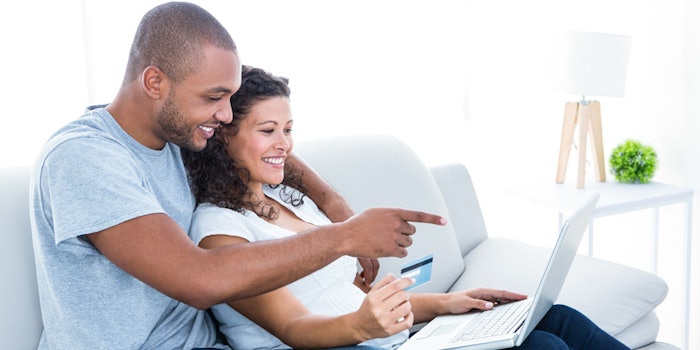 According to the "Amazon Consumables 2017 Review," conducted by One Click Retail, consumables are one of Amazon's topmost lucrative product groups, second only to consumer electronics. 
The review stated, in 2017, Amazon's first-party sellers earned an estimated $6.2 billion in the U.S. in sales of consumables, a 41% increase over 2016. There was reportedly strong growth in luxury beauty and baby care. 
A Closer Look at Amazon's Beauty Market 
In the U.S., consumable items represent 79% of Amazon's beauty market. While male grooming traditionally dominated Amazon's beauty category sales, luxury beauty is now the big driver. 
The review states, "The oldest millennials are now in their late 30s and have a new level of career stability and financial freedom. Their growing disposable income allows them to eschew mass-market beauty products in favor of luxury beauty, which nearly doubled in size in 2017 and now accounts for 20% of all beauty consumables."
Amazon.com (U.S.)
Total estimated beauty sales reached $1.5 billion growing at a rate of 41% YoY
The top beauty category was mass skin care with sales of $305 million
Top Consumable Beauty
Gillette Fusion Manual Men's Razor Blade Refills, 12 Count, Mens Razors / Blades
Men's Rogaine Hair Loss & Hair Thinning Treatment Minoxidil Foam, Three Month Supply
Crest 3D White Professional Effects Whitestrips Whitening Strips Kit, 22 Treatments, 20 Professional Effects + 2 1 Hour Express Whitestrips
Crest 3D White Glamorous White Whitestrips Dental Teeth Whitening Strips Kit, 14 Treatments - Lasts 6 Months & Beyond
Proactiv 3-Step Acne Treatment System (30-day) Starter Size
Men's Rogaine Hair Loss and Hair Regrowth Treatment, Minoxidil Topical Solution, Three Month Supply, (Pack of 3)
Neutrogena Cleansing Makeup Remover Facial Wipes, Waterproof Mascara Remover Refill Pack, 25 Count (Pack of 6)
Viviscal Extra Strength Hair Nutrient Tablets, 60-Tablets
Gillette Mach3 Men's Razor Blade Refills, 15 Count, Mens Razors / Blades
Pura D'Or Anti-Hair Loss Shampoo (Gold Label), Effective Solution for Hair Thinning & Breakage, New & Improved Pumps, 16 Fluid Ounce 
Top Consumable Luxury Beauty 
EltaMD UV Clear Broad-Spectrum SPF 46, 1.7 oz
Stila Stay All Day Waterproof Liquid Eye Liner, Intense Black (Jet Black)
Mario Badescu Drying Lotion, 1 fl. oz.
Oribe Dry Texturizing Spray, 8.5 fl. oz.
Revitalash Advanced Eyelash Conditioner, 2 ML (0.067 OZ)
St. Tropez Self Tan Bronzing Mousse, 8 fl. oz.
Mario Badescu Facial Spray with Aloe, Herbs and Rosewater, 8 oz.
Baxter of California Clay Pomade, 2 fl. oz.
EltaMD Skincare UV Daily Broad-Spectrum SPF 40 Tinted, 1.7 oz
Sensibio H2O Micellar Water 16.7 fl oz
Amazon.co.uk (U.K.)
Total estimated beauty sales reached £130 million at a rate of 22% YoY
The top beauty category was fragrance with sales of £30 million
Top Consumable Beauty
Wunderbrow - Perfect Eyebrows in 2 Mins - Brunette
RapidLash Eye Lash Enhancing Serum
Jean Paul Gaultier Le Male Eau de Toilette for Men - 75 ml
Wunderbrow - Perfect Eyebrows in 2 Mins - Black/Brown
Paco Rabanne Lady Million Eau de Parfum Spray for Women, 50 ml
RapidBrow Eye Brow Enhancing Serum
Olay Regenerist 3 Point Firming Anti-Ageing Cream Moisturiser for Firm Skin
Amazon Beauty Advent Calendar
Bomb Cosmetics Little Box of Love Gift Pack
Jean Paul Gaultier Classique Eau de Toilette for Women - 50 ml
Paul Smith Rose Eau de Parfum for Women - 100 ml
Sarah Jessica Parker Lovely Eau de Parfum for Women, 100 ml
Riemann P20 Once a Day Sun Protection Spray with SPF30, 200ml - Single Pac
Issey Miyake L'Eau D'Issey Eau de Toilette for Men - 75 ml
Paco Rabanne 1 Million Eau de Toilette for Men - 50 ml
Amazon.de (Germany)
Total estimated beauty sales reached €150 million at a rate of 53% YoY
The top beauty category was fragrance with sales of €40 million
Top Consumable Beauty
M2 Beauté Eyelash Activating Serum, 1er Pack (1 x 5 ml)
Olaplex Hair Perfector No.3, 1er Pack (1 x 100 ml)
Revitalash Advanced Augenwimpern-Conditioner, 2ml
Joop! homme/man, Eau de Toilette Vaporisateur, 1er Pack (1 x 125 ml)
Rosense Rosenwasser 100% natürlich vegan, 1er Pack (1 x 300 ml)
Joop! Jump homme/men, Eau de Toilette, Vaporisateur/Spray, 1er Pack (1 x 100 ml)
Orphica Realash Wimpernserum, 1er Pack (1 x 3 ml)
Hugo Boss Bottled homme/men, Eau de Toilette, 1er Pack (1 x 100 ml)
Jean Paul Gaultier Le Male homme/men, Eau de Toilette, Vaporisateur/Spray, 125 ml
Aphro Celina Wimpernserum, 3 ml
SA3 Magic Lashes Wimpernserum, 1er Pack (1 x 4 ml)
Chopard Wish femme/woman, Eau de Parfum Spray, 1er Pack (1 x 75 ml)
Spencer Millerberg, CEO of One Click Retail, said, "Our research shows beauty customers on Amazon are searching specifically for product ingredients, especially those with functional benefits. The most successful manufacturers have adapted to this, listing the key ingredients in titles and other key areas to drive discoverability."