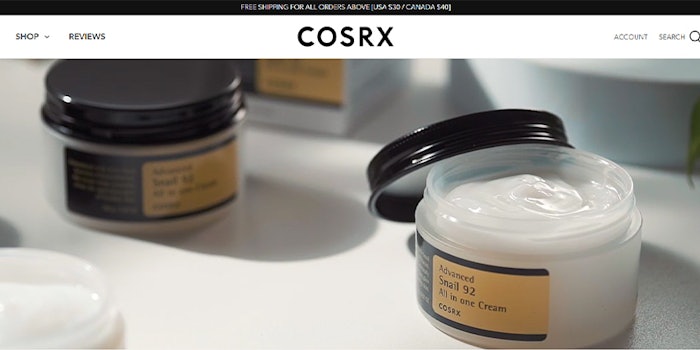 Cosrx, a beauty retailer, has opened its second e-commerce website.
Related: Ivy Enterprises Launches e-Commerce Website
The relaunched e-commerce website is changing both its payment and shipping system by adopting Shopify to allow consumers to reduce the time to order and pay the products and shorten the sipping period. The consumers in the United States and Canada are even able to receive Cosrx's products overnight.
To celebrate the grand opening, Cosrx has launched the Find Your Go-To Toner Collection campaign.
As part of the campaign, on February 9, 2021, Cosrx will sell a set of three toner: Full Fit Propolis Synergy Toner, Hydrium Watery Toner and Refresh ABC Daily Toner (AHA, BHA, vitamin C) for $1, a value of $25. For February 22-26, 2021 it will sell the set for $5. 
Hye Young Lee, Cosrx CGO, said, ''We are ecstatic to bring finest customized skin care right at the doorstep as it is no surprise that skin care is self-care, that's why we bring you the opportunity to experience a skin friendly skincare from the comfort of your house."
Lee, Cosrx PR and communication manger, said, "The new online store is intuitive, user-friendly and aspires to replicate the Cosrx's experience digitally. With a sophisticated user-interface designed to make shopping online a fulfilling experience, the website is optimized for mobile phones and desktops."