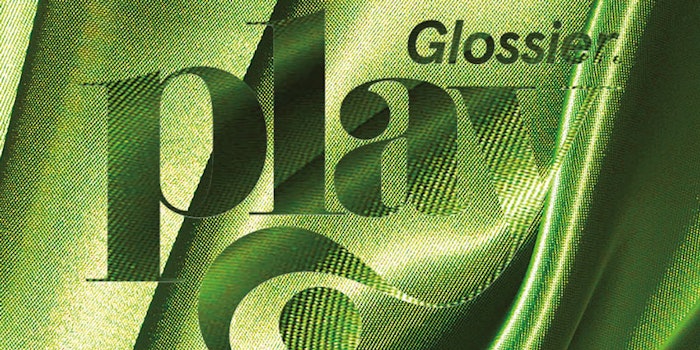 Glossier has cryptically teased its gloss-obsessed fans with a new brand called Glossier Play.  
After Glossier raised a cool $52 million in venture capital funding in February 2018, founder and CEO Emily Weiss enticed fans with plans for "Phase Two," including a "social commerce" site, which will bring together social interactions and e-commerce.
Glossier Play may be the inaugural step into the so-called "Phase Two" that brand loyalists have been waiting for.
Though Glossier has remained coy when it comes to details surrounding Glossier Play, there are a few elements known to the public.
Glossier Play is "Here for a good time."
Per the brand's new Instagram account, Glossier Play is set to arrive in March of 2019.
From a shimmering gold Instagram profile picture to a video featuring a morphing metallic blue Glossier logo, glitter and pigmentation abound when it comes to the Glossier Play imagery.
Glossier's cheeky quotes inside of its packaging often include "Skin First. Makeup Second." While the company initially focused on skin care, in recent years, Glossier makeup products have made their way into the shopping carts of enthusiastic millennials. Could it have been trying to tell us something all along? As of right now, all signs point to Glossier Play offering an expanded makeup offering.
Welcome to the "PlayRoom."
According to www.trademarks.justia.com, several trademarks have been filed in conjunction with Glossier Play.
Glossier Play: "Providing a website featuring consumer information in the fields of cosmetics, skin care and hair care products and services."
Glossier Play Tetra Chrome: Which includes, "Cosmetics; makeup; beauty products, namely, eye shadow and eye makeup."
Regardless of Glossier Play's outcome, the company's current clout over devout fans will undoubtedly make this new venture an industry juggernaut other bands will have a hard time ignoring.