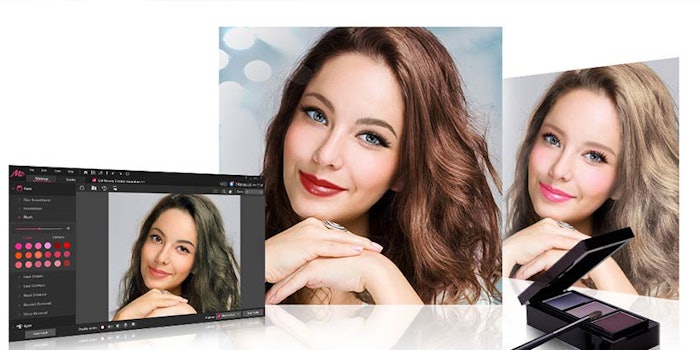 Perfect Corp., which recently released its standalone brand discovery platform, Beauty Circle, has introduced MakeupDirector, software for makeup professionals that allows them to virtually try customized makeup looks on clients.
The technology will allow artists to consult with clients virtually by allowing them to digitally apply different looks directly onto clients' photos to determine the best strategy. The looks can be tweaked based on lighting conditions, for instance.
The software uses face detection technology to capture more than 100 facial feature points for highly accurate facial mapping. MakeupDirector can apply virtual makeup, retouch photos, slim faces, and offer sculpting and contouring.
"A key advantage of MakeupDirector is the ability for artists to not only browse and download thousands of complete makeup designs from Beauty Circle..."
The software ($49.95) is available for Microsoft Windows on the CyberLink online store in English, French, German, Italian, Spanish, Chinese (simplified and traditional), Japanese and Korean. A version of MakeupDirector supporting OS X will be available for Mac users in September 2016. 
MakeupDirector is integrated with Beauty Circle, allowing users to browse and download makeup looks and share their own designs. Users who sign up to Perfect Corps.' beauty community through either YouCam Makeup or Beauty Circle can download MakeupDirector for free.
"The key to effective digital makeup is realism—it has to look 100 percent natural," said Dr. Jau Huang, CEO of CyberLink. "MakeupDirector's unique technology and world-class design team developed a digital makeup toolkit enabling virtual application that is indistinguishable from the real thing."
"A key advantage of MakeupDirector is the ability for artists to not only browse and download thousands of complete makeup designs from Beauty Circle, but also to upload their own look designs to inspire others," said Alice H. Chang, CEO of Perfect Corp. "As an expression of our excitement and enthusiasm for this product, we are pleased to offer it for free to YouCam Makeup and Beauty Circle members for a limited time."