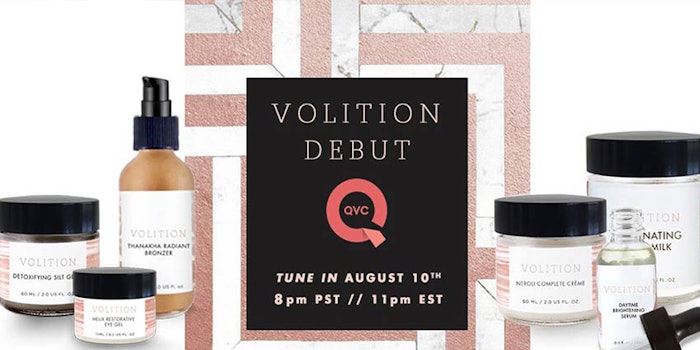 Crowdsourced beauty innovator Volition Beauty is debuting on QVC on Wednesday, August 10 at 11:00 PM (Eastern US time). Like Julep and Memebox, the brand co-creates its products with its audience/consumers.
How the brand works: "Volition seeks suggestions for products from consumers and behind-the-scenes cosmetics creators and, after vetting the suggestions for feasibility, quality and safety, lets consumers vote on whether or not the product should be made."
The products shown on QVC will retail from $29 to $120 and include:
Neroli Complete Crème
Illuminating and Hydrating Body Milk
Anti-Aging Day and Night Customized Skincare Trio
Volition Beauty will be available, while supplies last, at QVC.com, via QVC apps or by calling the QVC phone line.
"Volition Beauty is celebrated for its unique approach to curating products that fulfill real women's needs that otherwise may never have made it to market," said Brandy Hoffman, co-founder of Volition Beauty. "QVC offers a discovery driven shopping experience that is rich in storytelling – and we couldn't think of a more perfect platform for our collaborative beauty brand," said Patricia Santos.