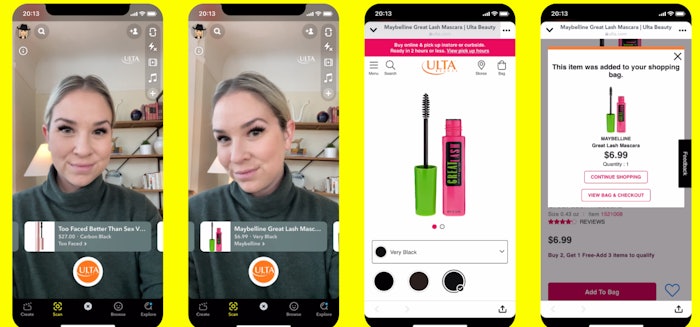 Snapchat has updated its in-app AR Shopping Lenses to offer real-time product information and pricing, while feeding real-time analytics to brands for R&D, marketing planning and more, per a TechCrunch report.
Shoppable lenses launched in May 2021.
The Lenses were beta tested with MAC Cosmetics and Ulta Beauty, among other industry players.
Per the report, "Ulta reported $6 million in incremental purchases on Snapchat and over 30 million product try-ons within a two-week time period. MAC, meanwhile, saw 1.3 million try-ons at a cost of 0.31 cents per product trial and reported a 17x higher lift in purchases among women, 2.4x lift in brand awareness and 9x light in purchase intent."
According to a Snap press release, "Snapchatters are now engaging with AR more than 6 billion times per day, and 93% of them are interested in using AR for shopping."
More brands and businesses will be added to the program later this year.