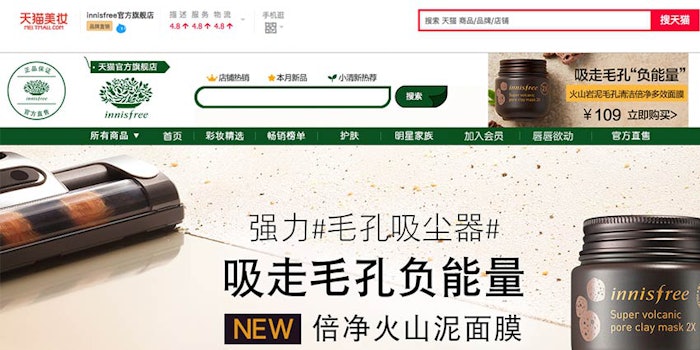 Korean natural cosmetics Brand Innisfree has teamed up with Alibaba Group's Tmall for the innisfree x Tmall new retail store.
Located in Hangzhou, China, the collaboration is Alibaba's first powered in-store experience with a beauty brand. Similar concepts are planned for innisfree's entire Chinese retail chain; additionally, it will partner with Tmall on a number of other new retail-related initiatives, such as online reservations for in-store treatments; ultra-customized services for offline shopping; and flexible online order pickups.
Features in the Innisfree x Tmall new retail store include:
A smart skin analyzer, which utilizes high-precision image capture to analyze a shopper's facial skin and recommend a range of suitable products.
A magic mirror utilizing augmented-reality technology, where consumers can apply virtual makeup and try out a range of looks. Guests can purchase selected items in-store or scan a QR code to order from the Tmall flagship store.
Smart shelf and cloud shelf, where customers pick up a product from the shelf and its details pop up on a touch screen located beside it. Through a cloud shelf, customers can see and learn more about Innisfree products that are not available in store.
Cosmetics sample vending machine where consumers can scan a QR code from the interactive screen and receive mask samples.  
A claw crane where visitors can scan a QR code and opt to participate in innisfree's membership program for three tries to grab a free sample.
Related: How Korean Beauty Wins in China