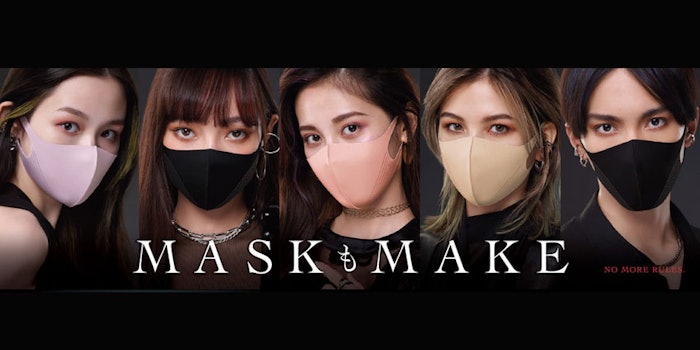 Kanebo Cosmetics has released the Kate Mask, a limited-edition silhouette mask from Kanebo's Kate makeup brand, that is said to define and sharpen the face shape.
Related: Kanebo to Premiere its Sensai 'Expert Items' Dual Essence Serum
The three-dimensional, triangular shape with stripes running from the chin to ears adds definition to the jawline, per the brand.
The mask are available in four colors, which were selected to control the impression of the skin tone: lavender, black, pink and light beige.
Each purchase comes with two masks, separately wrapped. The masks are washable for repeated use and are made of 95% polyester and 5% polyurethane for elasticity, moisture absorption and drying properties.
The Kate product ensemble also offers ideas for creating a desired look by matching masks with makeup.
The four color themes, Transparent (lavender), Cool (black), Elegant (pink) and Mode (light beige), can be matched with Kate's Designing Brown Eyes, Conscious Liner Color, as well as the limited-edition 3-D Hair Liner hair dye with which users can enjoy hair color with the same feel as makeup.