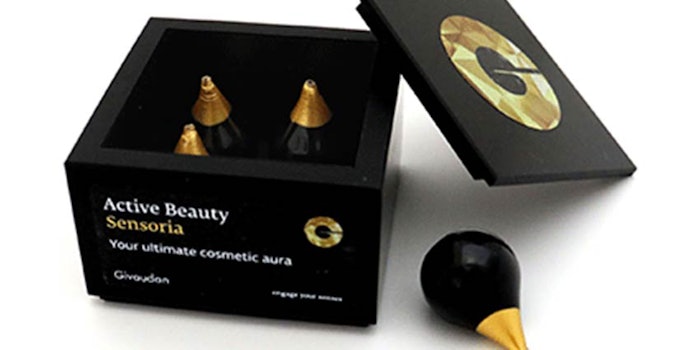 Givaudan Active Beauty has unveiled Sensoria, a sensory concept that brings together fine fragrance and cosmetics.
Sensoria combines fine fragrance and sensorial ingredients into cosmetics actives. Each of the highly perfumed emulsions contains active ingredients for anti-aging. These include:
Vetivyne—Discovered from exhausted vetiver roots, offers anti-aging benefits, plumping effects and long-lasting properties to enhance fragrance wear
Neurophroline—An Ayruvedic extract with stress-blocking action and anti-pollution protection
BisaboLife—A 100% sustainable bisabolol with deep soothing properties
BlurHD—A gardenia extract with anti-aging and antioxidant properties
The emulsions are packaged in black and gold droplets, in a custom-made box.
"In an ever-changing world, consumers are willing to experience more and dive into new universes engaging their senses and reenchanting their emotions," said innovation and marketing director Fabrice Lefèvre. "Sensoria is a highly technical concept leveraging synergies between high levels of perfume oil, sensory ingredients and cosmetic actives. The result is incredible: it creates a holistic sensorial experience. We're very proud to inspire our customers and groundbreaking innovative concepts."