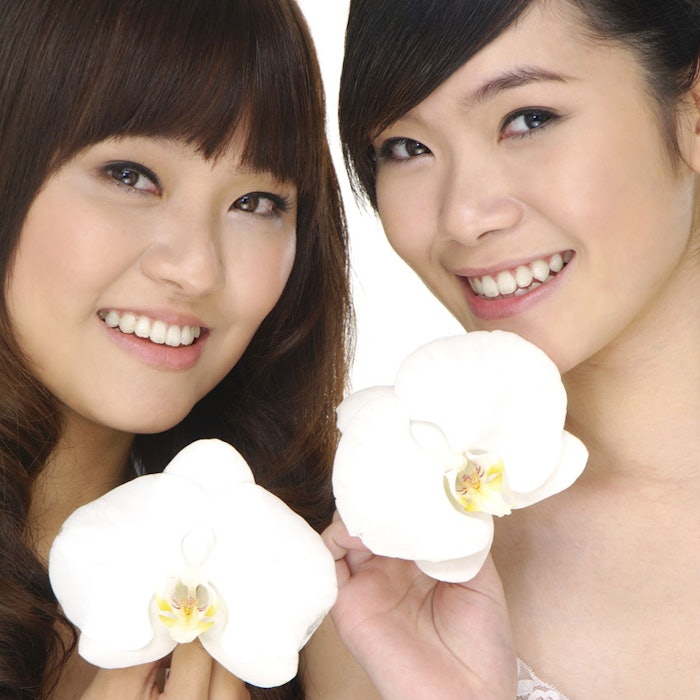 Researchers at The Kunming Institute of Botany (KIB), an affiliate of the Chinese Academy of Sciences (CAS) and a leading global phytology institute, uncovered a natural compound in dendrobium, a genus of high-elevation dwelling orchids, that was blooming with cosmetic potential—and Chinese cosmetic manufacturer Dr. Plant rose to the occasion to jointly develop it.
Antioxidant Abundance
As explained by Dr. Plant, the scientists discovered the source for the healing qualities of erianin bibenzyl, a natural compound found in dendrobium: in its dendrobium DPPH (1,1-diphenyl-2-picrylhydrazyl) form, the compound rates an impressive antioxidant rate of 74.6%. 
German- and American-made cosmetics have dominated Japan's imported cosmetics market; Chinese cosmetics are less common.
Making Its Mark
From this finding, a new line of dendrobium-based skin care was developed and launched under the Dr. Plant brand in 2017. It began selling throughout the Japanese Shibuya, Harajuku and Akihabar districts near Tokyo as of June 24, 2018. According to the company, German- and American-made cosmetics have thus far dominated Japan's imported cosmetics market; Chinese cosmetics such as these are less common.
Cultivating Future Cosmetics: Milkweed
While Dr. Plant enjoys its success, the CAS and KIB have announced new research that could also hold potential for skin care; this comes as no surprise since the 2018 Nature Index showed the CAS ranked number one among the world's leading research institutions for six years running. The KIB, in particular, is one of the leaders in terms of the research and application of acrophytes—plants that grow at high altitudes.
The KIB just announced the development of a new method to maximize, purify and derive ingenol mebutate from Euphorbia peplus, commonly known as milkweed. A patent application has been filed (CN201510066743.3) covering the method. 
The Chinese Food and Drug Administration and European Medicines Agency recently approved the use of ingenol mebutate to treat actinic keratosis. Historically, according to the KIB, E. peplus has long been used in traditional medicine to treat inflammation, asthma, diabetes and psoriasis. 
Could milkweed tempt the next dermocosmetic suitor?
In addition to the patent, the researchers identified a series of diterpenoids within E. peplus with unprecedented structures, including: 5/4/7/3, 5/6/7/3, 5/5/8/3, 5/5/10 and 6/6/7/3 ring systems. These entities hold great potential for a number of applications, particularly along the psoriasis pathway. They only require the right suitor to finesse them into the mass market.