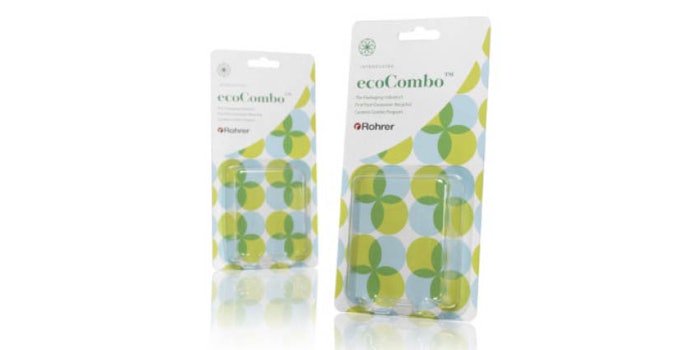 Photo courtesy Rohrer (https://www.rohrer.com/ecoCombo/)
Rohrer Corporation has announced the upcoming launch of ecoCombo, the packaging industry's first post-consumer recycled (PCR) materials combo program, which compliments Rohrer's ezCombo program. The program will be on display at WestPack at the Anaheim Convention Center, February 11 to February 13, 2020.

Previously: Transparent Container is Now Rohrer 
Combo packaging production refers to a unique design and manufacturing process that combines multiple parts within the same run. This shared tooling arrangement increases speed and reduces start-up costs for customers.
The ecoCombo program offers a new way for retail brands to make sustainable packaging choices in their blister packaging. This packaging solution will be available in early 2020, at a comparable price point to existing ezCombo programs.
For the ecoCombo program, packages use 50% PCR in the thermoformed blisters content and a minimum of 65% PCR content in the blister boards. Rohrer's ecoCombo program starts at 5,000 pieces and includes thermoformed packaging, blister cards and cartons.
The ezCombo program features a low point of entry in quantities and startup costs. It combines orders with common quantities, while spreading startup costs and increasing production speed for orders of all sizes.
Through ecoCombo, Rohrer demonstrates a strong commitment to helping partners achieve their sustainability goals.
Features:
PCR SBS board and thermoformed blisters
Available for blisters and blister cards
Runs on current production lines with existing heat-seal equipment
Tested for print quality and security benefits
Third-party heat seal and extreme-temperature testing
"Rohrer has found the solution to help our partners achieve their sustainable packaging goals," Carmine Lombardi, senior vice president of customer experience at Rohrer, said. "By adding ecoCombo to our ezCombo offerings, we maintain our speed and flexibility while being great corporate citizens. We have had recycled PET programs and recycled board available before, but ecoCombo will help brands send the message that they're taking action to reduce their environmental impact and increase recycling."
"Consumers are passionate about sustainability," said Sarah Carson, vice president of marketing. "Our brand partners want to use sustainable packaging, too. Unfortunately, green options often cost more than virgin materials. Historically, that sent our partners' sustainability initiatives out the window. That's why ecoCombo is so exciting. The pricing is in-line with our existing ezCombo prices. And that allows brands to achieve sustainability goals without sacrificing their budget or timelines. It's great for our partners–and it's great for the environment!"