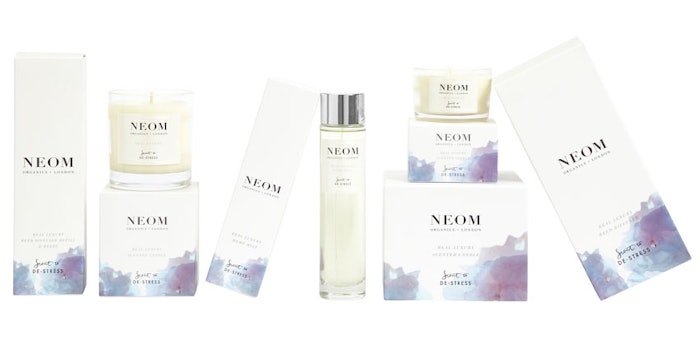 After seven years of working 60-hour weeks, Nicola Elliot, former editor for Glamour, found a solution to focus on her own well-being—Neom Organics.
Starting on her journey to bring wellness into her life, Elliot trained as an aromatherapist and a nutritionist. This path led her to launch Neom Organics in 2005 with a range of home and beauty products based on aromatherapy scents.
The brand promises "100% natural fragrances for the mind & body, made in Britain from ethically sourced, sustainable origins, only natural and organic ingredients, no petrochemical paraffin or mineral wax, no artificial perfume only pure essential oils and no harsh preservatives."
Currently, Neom offers five product scents: Scent to Sleep, Scent to Instantly De-Stress, Scent to Boost Your Energy, Scent to Make You Happy and Scent to Calm & Relax. Each scent range includes candles, diffusers, home and pillow mists, along with bath oils, foams, hand balms and creams, body and hand washes, lotions and body scrubs.
Neom Organics products are retailed at are available at www.neomorganics.com and range in price from £15 – £63.