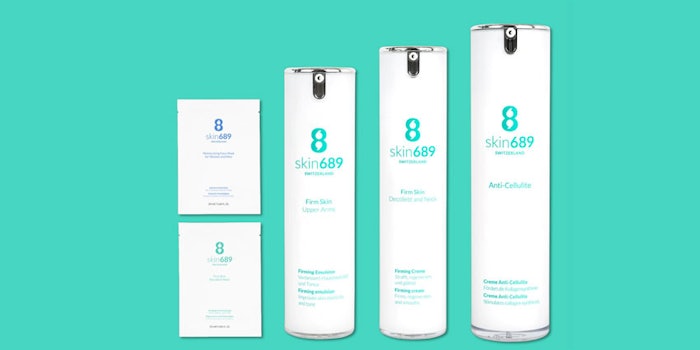 Skin689's range of skin firming cosmeceuticals is meant to target the skin on arms, neck and décolleté, buttocks and legs. 
According to the Switzerland-based company, its proprietary patented ingredients stem from medical research and target collagen fibers as a root cause. Skin689 claims its products offer structural firming effects with continuously increasing results. 
Key ingredients include:
PhytoCellTec, an ingredient created to protect dermal skin cells and improve tissue structure;
DermCom, an ingredient meant to stimulate keratinocytes to emit growth factors and reportedly has in-vivo proof of collagen and elastin formation;
CoAxel, an active ingredient containing COA, L-carnitine and caffeine, which break down fatty acids, increase collagen and firm the skin; and
CHacoll, an active ingredient that stimulates the skin's own collagen production.
Products include:
Creme Anti-cellulite (£49);
Firm Skin Decolleté and Neck (£36.50);
Firm Skin Upper Arms (£34.50);
Bio-cellulose Face Mask (£5.90); and 
Bio-cellulose Decolleté Mask (£7.50).
Per the company:
"One of the most difficult challenges in dermatology is cellulite, as to whether plump or slim, 80-90% of women are affected by the unsightly dents on the buttocks and thighs. More surprisingly is that many women have given up on treatments and a procedure as very little on the market proves to its efficacy. The frustration is correspondingly high and understandably also the skepticism about novelties in this area. 
To understand cellulite is to understand one important change of the fatty and connective tissue. The accumulation of fat cells leads to the collagen fiber network no longer being to withstand the pressure. Once the network slackens, the fat lobules push through. The thickened short collagen fibers tend to draw skin inwards while the dents remain.
Skin689's patented ingredient CHacoll (a molecule) in its Anti-Cellulite Crème is a new active ingredient of natural origin, and developed an anti-cellulite unprecedented efficacy. In two clinical dermatological case studies, subjects found the elasticity of their skin increased significantly and the circumference of the thigh had been reduced in the area of protruding fat lobules by 44-58% in just twelve weeks."