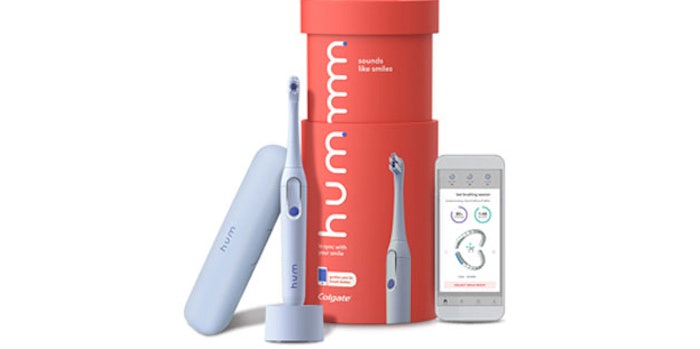 Colgate and Oral-B are growing the market for smart toothbrushes with the release of Hum by Colgate and Oral-B iO.
Further reading: Wellnesse Launches Eco-friendly Whitening Toothpaste
According to Colgate, the smart electric brush guides consumers to brush better to build healthier habits "without sacrificing fun for functionality." Smart sensors make it simple to track the frequency, duration and coverage of a consumer's brushing style, while providing personalized guidance for those that needing to target  specific areas.
Bill van de Graaf, vice president, marketing North America said, "hum by Colgate was designed with the consumer in mind to create a more accessible smart electric toothbrush to help more people brush better. hum also meets the consumer demand for a lightweight and sleek toothbrush that delivers a powerful clean. For consumers, good habits are key to staying happy and healthy, and they prefer brands that help them build those habits in easy and fun ways."
Oral-B iO
Oral-B said that in clinical tests, iO offers a linear magnetic drive and redesigned brus head to deliver superior oral health. 
The toothbrush also has a bimodal smart pressure sensor that provides "positive brushing feedback, identifying and guiding users to brush in the optimal pressure range." It offers seen brush modes for a personalized experience.
"Oral-B iO represents a monumental leap in innovative oral care technology," said Steve Bishop, P&G health care CEO. "Oral-B iO not only propels the category forward and provides consumers with superior oral health, but it also aims to transform the act of brushing from something you have to do into something you want to do."