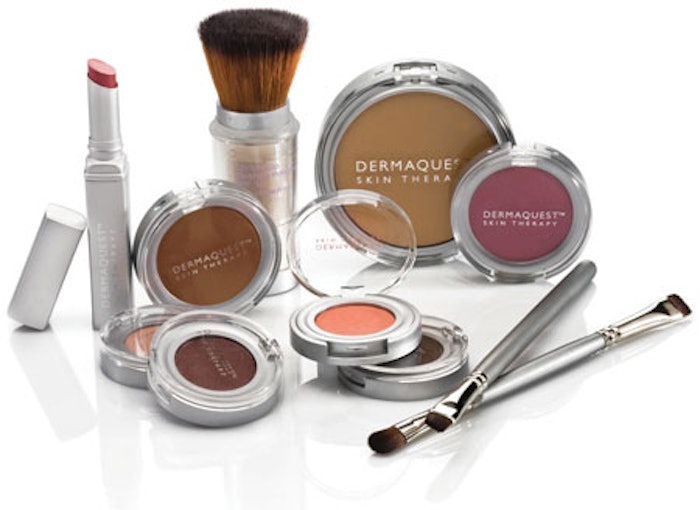 Treating the skin well while wearing makeup is a mainstream trend gaining momentum.
Rather than masking imperfections, today's foundation is being marketed as a necessary tool in the defense of skin health.
Innovation leads to choice for both marketers and consumers.
Natural makeup has become less about bells and whistles and more about the simple fact that the product does what it's supposed to without any ingredients that certain consumer segments look to avoid.
Now more than ever, consumers are looking for innovative, value-oriented cosmetics that contain advanced technologies to fulfill a commitment to healthy living.
While the beauty sector is struggling overall, consumers continue to spend money on small indulgences. And although the oft recession-proof lipstick registered a dip, it seems that the indicator in today's economy is foundation, which has been faring better. Consumers are looking for an inexpensive but effective boost in a down economy. At the same time, antiaging, wellness and natural products are crossing over from luxury to necessity as lifestyles shift toward healthy living.
According to Janelle Rogers, director of product development at Lady Burd Cosmetics, there are two types of customers: one wants to be able to look at the ingredients and see that they are as natural as possible while still being effective; the other wants to know that the products have the most new and advanced scientific technologies available. "There are products to satisfy each and some that satisfy both," she explains. A recent innovation from the private label manufacturer is Anti-Aging Foundation, featuring duo-peptides, natural extracts and antioxidants while offering the same benefits as the company's Anti-Aging Moisturizer.
Simply, color cosmetics that offer specific skin benefits help justify consumers' "indulgence."
Skin Health
Treating the skin well while wearing makeup is a mainstream trend gaining momentum. The consumer's hunger for beneficial and impactful ingredients is consistently increasing, as is the desire for products that address, promote and aid beauty from within. Product developers and marketers are listening, incorporating targeted active ingredients that can work synergistically with supplements to promote skin health. Marketing launches that are formulated with high concentrations of retinol, hyaluronic acid and peptides target consumer groups that believe in taking a preventive stance in skin defense rather than addressing the issues when they have already arrived.
Rather than masking imperfections, today's foundation is being marketed as a necessary tool in the defense of skin health. Reflecting this idea is the rapid development in recent years of foundations that contain sunscreen, antioxidants and now antiaging benefits.
When Mode, positioned as "affordable luxury," launched Natural Skin Mineral Powder Foundation, the brand formulated with cocoa to provide antioxidant properties and a naturally fragrant aroma. "Consumers immediately resonated with the product because of its unique benefits and properties," says Cristina Samuels, co-creator. "The days of the generic cookie-cutter approach is history." Mineral makeup, specifically, is getting increased attention as a foundation perceived to be healthy and natural.
DermaQuest's new DermaMinerals, for example, combines coverage with therapeutic skin care. Marketed as an extension of its skin care line, DermaMinerals features dermaxyl peptide to minimize the appearance of fine lines, and its Archipelago Sea Minerals, a unique combination of 92 trace elements, to help hydrate and improve skin barrier function. The reflective and light-scattering properties of mica-wrapped cotton fibers and boron nitride, an oil-absorbing mineral, also help restore the skin's luminosity.
Antiaging
High-performance antiaging beauty that is treatment-driven is carving out its own niche. The ANEW Duo—Line Smoothing Treatment and Loose Powder—for example, contains Avon's proprietary 4D Wrinkle Reverse Technology, designed to minimize fine lines by protecting four key skin components that diminish with age: collagen, elastin, hydroproteins (glycosaminoglycans) and "shock-absorbing" proteins (proteoglycans). The patent-pending blend features apple root, fennel, hydrolyzed hibiscus, alfalfa and pomegranate extracts for, the company claims, instant and long-term results. Avon further claims expression lines will appear visibly smoother after four weeks of use.
"We cannot stop aging, but let's be okay with that; be real," says Sue Devitt, founder, Sue Devitt Beauty. "If you look like you take care of yourself and are confident, that's sexy." She hopes to help change the perception of beauty in that sense with a healthy focus on projuvenation in her mineral makeup line.
The key is moisturization. Without hydrating elements, powder will inevitably dry out the skin, a common problem for traditional mineral-based cosmetics. Sue Devitt Beauty's Hydrating Marine Minerals feature SpaComplexion, a combination of hydrating ingredients that includes the brand's signature Microquatic complex. The fundamental ingredient is the hyaluronic acid, which helps the skin absorb water continuously from the air and restore natural elasticity throughout its wearing. The brand's products contain other antiaging benefits, such as ceramides to kick-start collagen production, and marine elements designed to heal and nurture skin. Normally, during the manufacturing process, the moisture is pressed out of the powder. By addressing issues of dryness and premature aging, the brand is focusing less on special effects and more on product development. "The combination of ingredients is what makes these products innovative and effective," says Devitt. The SpaComplexion line, launched in spring 2009, includes tinted moisturizer, pressed and loose powder and several eye palettes in rich colors. "You don't need to trade off fashionable colors to have a natural mineral product at your fingertips," adds Devitt.
In response to the increasing popularity of wrinkle fillers such as hyaluronic acid, Cognis Care Chemicals and its active ingredients business Laboratoires Sérobiologiques presented Hyalurosmooth, a botanical alternative to hyaluronic acid at In-cosmetics. It is made of polysaccharides extracted from the seed of an Indian plant, Cassia angustifolia, which forms a protective film on the skin that strongly binds water and fills in fine lines. It provides, according to the company, intense moisturization while plumping up the skin, which further helps to reduce fine lines and wrinkles and to smooth the skin's surface. As a result of the smoother surface, light reflection is also improved, leading to increased skin radiance.
Advanced Technologies
To combine high-tech with natural, Yves Rocher coats pigments and loose pearls with botanical ingredients in the formulation process, so that what touches the skin is from a botanical source and brings an added performance. The Couleurs Nature makeup line mixes minerals with virgin sweet almond oil from organic farming during the formulation process. "These materials simply merge with the skin," explains Judith Flateau, director of makeup for Yves Rocher. The line's Flawless Finish Fluid Foundation contains natural mineral pigments that are coated with a botanical soybean extract (phospholipids), ensuring that the foundation stays put. The brand is working with pigment suppliers and will launch a new innovation of coating in foundations in 2010, according to Flateau.
Innovation leads to choice—not only for the consumer, but for the marketer as well. One of the standout products on display at In-cosmetics was Tagra Biotechnologies Ltd's Magic, an antiwrinkle eye cream shadow formulation with stable actives, color and fragrances. Tagra created the three-in-one formulation to demonstrate the power of its release-on-demand microencapsulated technology, which is engineered to protect and stabilize active ingredients—including natural and essential oils. Tagra announced that these pigments can be conveniently added to makeup products to fine-tune the coloring and even create products that are one color in storage and another once applied. Tints and sheer radiance foundations, active eye shadow and healthy skin application blush are only a few of the unlimited multi-functional possibilities for color cosmetics. The innovation of the technology is friction-release—not time-released—through consumer application.
Real Natural
Products catering to consumers' chemical aversion have definitely found their place. From supermarkets to Sephora, which just launched its own Sephora Pure collection, shelves are overflowing with products featuring ingredients from nature, not the lab. Many claim skin-nourishing properties that are superior to synthetic counterparts. "I love the way that organic ingredients and formulations are becoming exciting and more widely available so that makeup, in general, is moving in a more holistic direction," says Petra Strand, founder, Pixi. High-quality minerals, for example, can now be added to a multitude of products without the heavy texture and pastiness.
Pixi, launched by Strand 10 years ago in London and now available at Target, was established as a brand synonymous with fresh, natural beauty. "Consumers want—and deserve—products that work on more than one level," says Strand. "[Consumers want to] look and feel nice, and they are results-driven—[they want] a combination of innovation (coupled with botanicals) and old tried-and-tested ingredients that are really interesting and valid."
Strand uses plant waxes to nourish and "hold" pigment for color payoff, in addition to antioxidant and soothing properties of chamomile and green tea, particularly in eye products. Fairy Light Solos—the most recent product introduction, launched in fall 2009—is treatment mineral eye shadow that conditions the skin to improve the texture. What makes it possible is a synergistic blend of vitamins and shea butter with non-drying pure mineral pigment.
"If the very core of the product is botanical, the minerals physically protect the skin and help minimize the use of chemicals and preservatives," said Strand. This means that it becomes less about bells and whistles and more about the simple fact that the product does what it's supposed to without ingredients that certain consumer segments look to avoid.
To help marketers make a move toward green, suppliers are providing more natural-based ingredients designed to provide enhanced flexibility and ease of formulation. BioOrganic Concepts' Microzest 25 powders range, which is manufactured by Lessonia, is developed from 100% natural plant powders and minerals that are finely milled to 25 microns, making it non-water soluble and sufficiently fine for a smooth, silky texture. The range is said to provide enhanced natural color for a range of natural or organic makeup products, and is available in a variety of shades.
Perfect Combination
This is an increasingly technologically advanced world, where perfection is the goal. Yet, there is a backlash—a counterculture where people want a more back-to-basics approach—to be natural, to be real. There is a place and ideally a synergy of both. By merging high-tech and natural ingredients to create high-performing products that simultaneously deliver beneficial natural ingredients, companies can keep an eye toward the future and a foot in the past to provide consumers the best in innovation.
Sara Mason is a freelance writer based in the Chicagoland area. She was previously managing editor of GCI magazine.