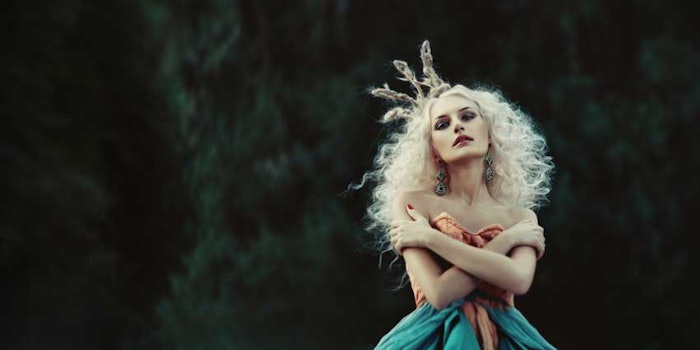 Fandom: the community or subculture that surrounds a tv show, movie or book.
For years fandoms have congregated to celebrate and discuss in local bookstores, coffee shops, Internet chat rooms, waiting in long lines at movie theaters or crowded around television screens. More recently, fandoms have successfully started making their way into a territory many never expected they would go: the beauty aisle.
Pop culture, movie, book and fairytale makeup collections have been popping up left and right over the past several years. And beauty consumers cannot get enough. 
Storybook Cosmetics is a makeup brand focused solely on these types of makeup collections. Earlier this year, Storybook launched a Wizardry and Witchcraft eyeshadow palette that fans started pre-ordering three months in advance. The brand also launched Wizard Wands (aka makeup brushes) to accompany the palette, some of which are currently sold out on the brand's website.
Storybook's most recent palettes include the Mean Girls Burn Book Storybook Palette and the Charlie and the Chocolate Factory Storybook palette. According to its Instagram, upcoming projects include a Hunger Games collection, a dragon collection and a palette inspired by Vincent van Gogh's Starry Night.
Lorac Cosmetics has also jumped on the movie-themed bandwagon with its Disney Beauty and the Beast and Disney Pirates of the Carribean collections. In 2015, Covergirl launched a Star Wars collection. All the way back in 2010, MAC debuted its Venomous Villains Collection featuring Cruella de Vil, Maleficent and The Evil Queen from Snow White.
As this trend continues to grow and the launches get buzzier, pop culture makeup collections are proving to be a fun—and lucrative—way for brands to appeal to consumers by letting their fandom flags fly.
Bésame Cosmetics, a luxury vintage makeup brand based in California, recently teamed up with Disney to commemorate the 80th anniversary of "Snow White and the Seven Dwarfs" with the Snow White 1937 Collection. Global Cosmetic Industry talked with Bésame's founder, Gabriela Hernandez, about why pop culture themed makeup collections are so appealing to today's beauty consumers.
For those unfamiliar with Bésame Cosmetics, can you explain what being a luxury vintage makeup brand is all about?
Gabriela Hernandez (GH): Bésame is a company based on things that have to do with history or things that have stories. We're more storytellers than we are makeup manufacturers. We like to transport people back to a different time or to different characters and how they were interpreted during that time. 
Bésame recently launched the Snow White 1937 Collection. What was the thought process of choosing Snow White specifically? Why Disney?
GH: Disney actually came to us. They were familiar with our store in Burbank because they have studios nearby and would come in an see our products. They thought what we were doing was interesting and that we would work well when telling the character's story in a genuine way. 
Snow White happened to fit us really well because she was the very first princess. The movie came out in 1937 and she was created a couple of years before that. All of the colors in the movie were chosen by the women who ran the ink and paint department at the studio. They mixed the paint and made all of the colors for Snow White, including her makeup colors. The colors reflect what was fashionable during that period of time because Snow White was real, she wasn't supposed to be a cartoon, she was supposed to be a girl. In the movie, she is sporting the look of the era and epitomizes what a fashionable lady was supposed to look like. She was very fashionable for her time and those colors continued to be fashionable. That's why we decided to represent those shades. They are the original shades of the ink from the movie and come from the archives. 
In your opinion, why are pop culture/movie/book themed cosmetic collections so popular right now? Why do they appeal to beauty consumers? 
GH: I think people want to reminisce and remember things from when they were younger. It's a feel-good thing. I think millennials are looking for that because they want to feel grounded in things from the past. Everything about millennial culture is so temporary and so fleeting. They don't have a lot of historical things to go by, so anything that has to do with the past gives them a feeling of heritage and something that has a lasting quality to it.
Would you be open to the possibility of other collections similar to the Snow White 1937 Collection? Is this something Bésame fans seem to be interested in or excited about?
GH: The response to this collection has been tremendous. We have sold out of the book and other products in the collection are close to being gone as well. I didn't expect this kind of response at all when I started working on this. I'm surprised people are such hardcore fans of Snow White.   
There is more of the collection coming out in February, to commemorate the wide release of "Snow White and the Seven Dwarfs." The film will be coming back to El Capitan Theatre in Hollywood and we will have a pop-up there to showcase some new bags and palettes. 
The next collection we have coming out is Agent Carter, which we have been working on with Marvel. The fans of that character really get into it.