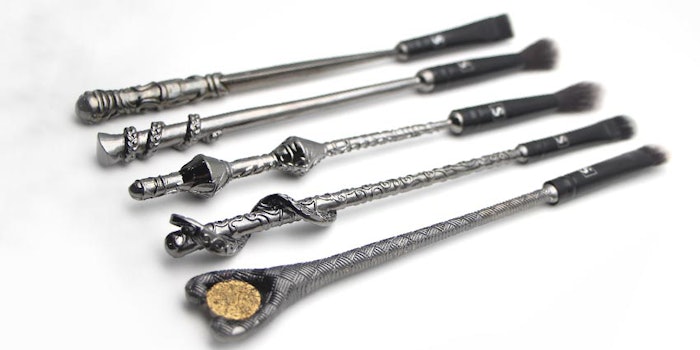 Storybook Cosmetics
Hold on to your witch's hats. Storybook Cosmetics is merging magic with makeup, and building a following of hopeful fans in the process.
The indie brand has already launched two sold-out brush sets designed to look like a magic wand, drawing the attention of fantasy and Harry Potter fans. The combination of its broad fan appeal and cruelty-free products have earned Storybook Cosmetics almost 100,000 new followers to its Instagram account since the launch of its first limited edition brush set in October 2016.
In addition to a full presale run of its second Wizard Wands collection in February, Storybook Cosmetics is brewing up several products for release in 2017, including:
Quill & Ink eyeliner set, packaged in an ink pot and brushed on with a matching quill
Wizardry and Witchcraft eyeshadow palette, with 12 matte and shimmer shades such as "Sorcerer" and "Merlin" nestled in a storybook
Liquid lipstick evoking four story genres— Fantasy, Horror, Adventure and Romance
BullsEYE Brush Set, shaped like a quiver of arrows
"What's in a Name" Rose Brush Bouquet, channeling Romeo and Juliet
The company has also captured many fans' hearts with concept photos of products that span genres, such as a collection of color cosmetics inspired by Game of Thrones and Sonic Screwdriver and Lightsaber brushes, of Doctor Who and Star Wars fame. The brand plans to continue to keep its fans informed of the status of its prototypes and licensing agreements needed to bring the stories to life.
For more information, head to www.bustle.com.