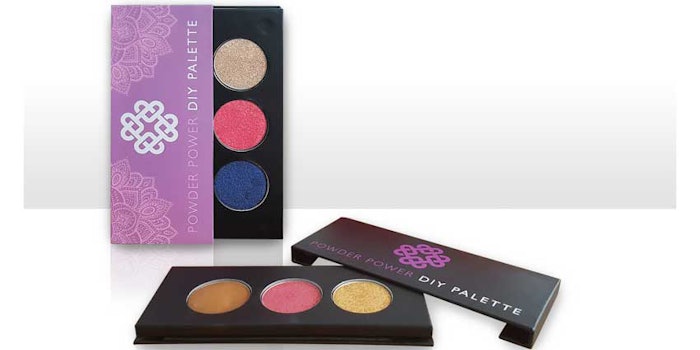 Mktg Industry has launched its Powder Power DIY Palette. 
The brand explains that this palette introduces a do-it-yourself system to the concept of traditional makeup palettes. 
The 5 Step DIY System

Consumers can choose a base containing different makeup formulas, shapes and sizes, examples include a 

contouring kit, strobing kit, eyeshadows kit and lip kit;

Consumers can then select a personal skin-cover with different colors, finishings or graphics;

Using the Sliding DIY Magnetic System, the base and cover can be easily connected; 

The palette is ready to be used; additionally

Consumers can change the skin-cover the base according to makeup needs and occasions.
According to Mktg Industry, the palette is available with a wide range of customizations and decorations, including 4-color printing, screen printing, hot stamping, shiny/matte finishing, UV lacquering and special paper. 
Mktg Industry added, "This revolutionary palette is entirely made in cardboard and paper, composed by two parts held together by a sliding system and six magnets: a base to contain the makeup formulas and a skin-cover. The sliding system works with the six magnets inserted under the paper that allows the palette to slide open and close, to separate the skin-cover from the base and at the same time to easily reassemble them according to taste, look, occasion or mood."