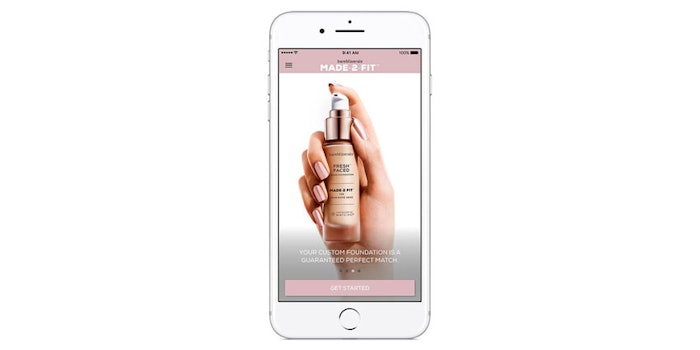 In January, when Shiseido acquired MatchCo, MatchCo's founder and chief strategy officer, Andy Howell, said, "Today our MatchCo customer experiences her own bespoke foundation individually made to match her skin tone from the comfort of her own phone, but this is just the beginning. As part of the Center of Excellence, we look forward to collaborating with the brands in Shiseido's global portfolio to usher in a new age of personal­ization, A.​I. for Beauty." That day has come.
Shiseido Americas Corporation has launched a new iPhone beauty app, Made-2-Fit, which is powered by MatchCo AI and uses the phone's camera to scan users' skin tones and then generate a custom-blended bareMinerals Fresh Faced Foundation ($49 for a 30 ml bottle) that is subsequently delivered to the consumer's doorstep. The required six skin tone scans are led by the app's virtual makeup artist voice guidance.
"This development marks a sea change in makeup selection, purchase and consumption," according to Shiseido.
"Since its founding in 1976, bareMinerals® has always put customization for its consumers first, investigating and advocating for new technologies to serve them," said Jill Scalamandre, president of the Global Shiseido Make-up Center of Excellence. "Known for creating innovative formulas with pure, nourishing ingredients, the company has been connecting with its customers in meaningful, forward-thinking ways for over 40 years. For that reason, bareMinerals is an ideal partner for MATCHCo: Together, they're looking to fundamentally change the way consumers shop and experience cosmetics."
"We're excited to leverage our startup's unique platform technology and digital-insight tools across Shiseido's portfolio," said Howell. "It not only lets us capture a major consumer trend – cosmetics customization – but also offers huge potential for opening up 'A.I. for beauty'."