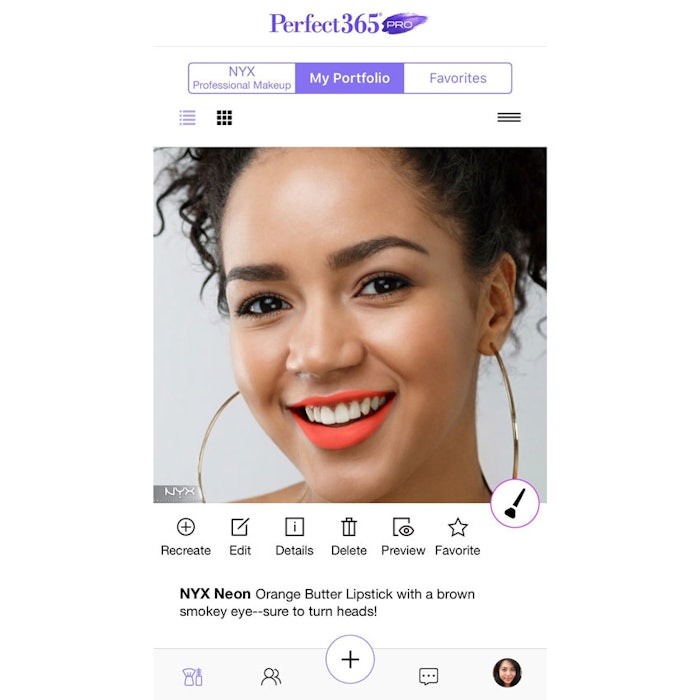 It's no secret that beauty consumers––especially those millennials––are more inclined to purchase products if they are given the chance to see what it looks like on their face prior to buying.
Perfect365 was well aware of this fact and created Perfect365 Pro, a new feature made specifically for makeup artists to digitize looks in the app. It can digitize any makeup look from brand makeup artists to recreate or make minor adjustments to.
Perfect365 Pro will also provide artists with not just the colors for the eyes, lips and face, but the brand they are affiliated with. This gives brands the opportunity for their products to be exposed to Perfect365 users.
NYX Professional Makeup products are to be featured in the app and brand makeup artists can develop looks for clients using virtual makeup. The clients are then able to "try on" the look using a live augmented reality (AR) mirror. The partnership was kicked off at the NYX Professional Makeup flagship store in NYC hosted by makeup artist and Perfect365 beauty advisor, Kabuki.
Key Features Include:
Managing Clients: Makeup artists can create a client profile, save reference photos, written notes and payment details
Design looks: Artists can design a look or make changes to one they've already created. For brands, artists can chose from current products to use when creating a look
Communication: Artists are able to send the look to a client via the app, the client can then respond in the chat feature in the app
Kabuki was quoted saying, "Perfect365 Pro will drastically change the makeup industry. For my clients, getting the look right is the only option. Now, with the face detection technology in Perfect365 Pro, I can experiment and play with makeup looks on my client prior to applying it for a photo shoot and I can give them a realistic idea of what it will look like. Digital beauty is really the future of my industry."