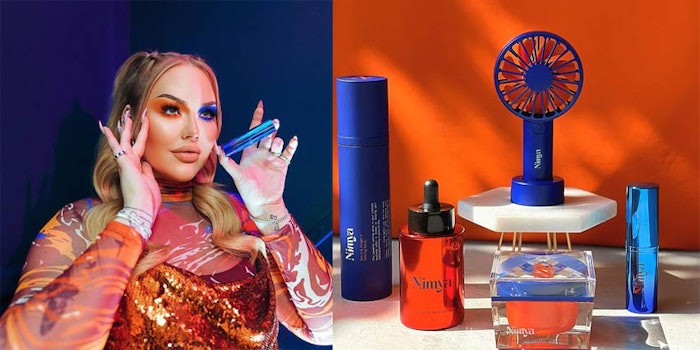 NikkieTutorials is launching her own beauty brand, Nimya, today, September 23, 2021. The makeup artist made the announcement on her YouTube channel. Update (Sept 23): We now have more details on the products. 
Previously: Naomi Osaka Launches Kinló Skin Care Brand
The brand is launching with the following products:
Where It All Starts Cream: This moisturizer/primer hybrid can rid the skin of any dry spots and leaves a sticky "makeup magnet" finish. The cream also imparts a soft, healthy glow, per the brand.
Set It & Forget It Setting Spray: This makeup-setting spray is a "must-have for every makeup lover out there," per the brand.
Brr Brr Cooling Eye Stick: The formulation is designed to instantly depuff and nurtures stressed eyes and acts as a first step to prep the eyes for foundation and concealer.
License To Glow Serum: This serum can be added to foundation to make the finish less mattified.
Blow Before You Go Fan: A beauty tool to help product set. 
The products are available exclusively on nimya.com.
"I want you to know that I'm putting my own money on the line here," NikkieTutorials said in her announcement video. "No huge investors, no big companies behind us that are pushing us or making us come up with a product every two to three months. This is my money; I am putting myself up for a lot here."