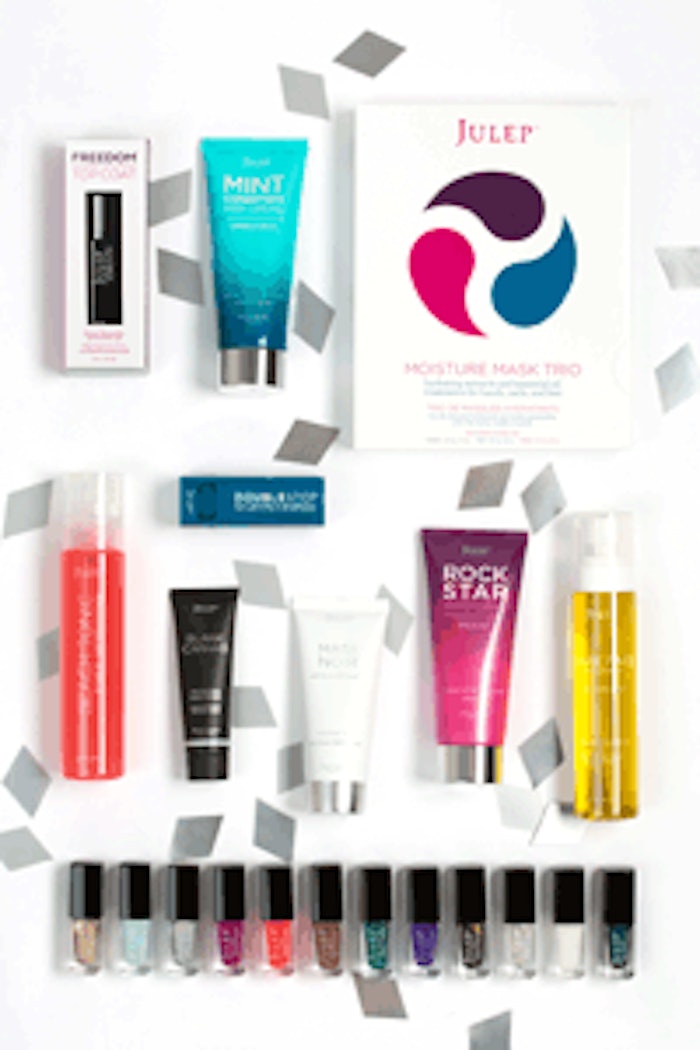 Pop-up shops are here today and gone tomorrow—but what if you could turn a one-time visit to a temporary store into a year-long personal shopping experience? Julep's new Manhattan pop-up, coming to 102 5th Ave. between December 13 and December 22, 2014, invites visitors to personally experience Julep's popular online Maven subscription program in the real world. Visitors can discover their style profile, customize the product mix for their monthly Maven boxes, or gift the subscription to a friend or family member. Shoppers will not only walk out of the pop-up store with their first Maven box, but also the promise of receiving a personalized assortment of Julep's most innovative new products straight to their door each month.
"With our first pop-up, we're bringing online retail to the physical world," said Jane Park, CEO and founder of Julep. "Most pop-ups are temporary retail stores that leave customers thwarted when they're gone. With the Julep New York pop-up, we're seamlessly integrating e-commerce subscriptions into the store experience, turning a one-time shopping trip into a long-term customer relationship."
At Julep's New York City pop-up, shoppers can:
build a customized Maven box: Shoppers can experience Julep's online Maven beauty box in-person and choose $40–60 worth of products, including limited edition nail colors and best-selling beauty and skin care formulas, for just $19.99. By becoming a Julep Maven in-store or purchasing a gift membership, shoppers will also receive 20% off all other purchases within the pop-up.
shop Julep's most innovative products: Through the subscription every month, Julep Mavens are given first dibs at Julep's most innovative new-to-market products. At the Julep pop-up, shoppers will be able to shop the best of the best, including popular products such as Bare Face Cleansing Oil, Luxe Repair Skin Serum, Konjac Facial Sponge, Oxygen Nail Treatment, and Freedom Polymer Top Coat. Shoppers can also take a sneak peek the Julep Idea Lab for an inside look at the brand's crowdsourced product development process.
shop curated holiday sets: On a first-come, first-serve basis, shoppers will be able to browse and shop Julep's limited-edition, curated holiday gift sets, which include some of the latest products grouped into colorful, ready-to-gift packages.
and purchase unique holiday gifts: For the beauty enthusiast who has everything, Julep will offer a $10,000 package that includes the chance to create your own nail color, name it after yourself or a woman who inspires you, and receive 100 bottles of the polish to pass out to family and friends. One hundred percent of the proceeds from the sale of the polish will go to a charity of the customer's choice. All visitors to the pop-up shop will also be able to enter to win this package.