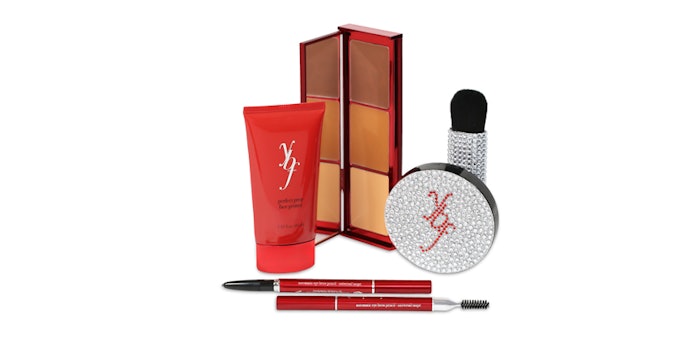 ybf beauty, a beauty brand retailed on numerous TV networks, celebrated its 10-year anniversary in August 2018. 
As part of the celebration, ybf offered customers a four-piece collection comprising the brand's best selling products: Perfect Prep Face Primer, Neutralizing Crème and Illuminating Crème Duo, Higher Brow-er Power Brow Highlighter and the Automatic Eyebrow Pencil.
Global Cosmetic Industry caught up with Stacey Schieffelin, founder of ybf beauty, and Brian Robinson, president of ybf beauty, to learn how the industry has changed since its launch and what is next for the brand. 

Global Cosmetic Industry (GCI): What are the biggest changes ybf has undergone in the last decade? 
Stacey Schieffelin (SS): The world has changed a lot in the past 10 years. The rapid development of new technology and the changing landscape of the online world have changed the way we view beauty—how we approach beauty. I remember in a TED Talk I gave in NYC, I shared I was doing live tutorial makeovers on TV—before it was cool—using it as my reach. Today all the social media platforms are amazing! So many women no matter their ethnicity, age, and position in life can all share what beauty means to them. Over the last ten years, ybf has become the number-one color cosmetic line in direct sales on HSN (USA), QVC (UK – England, Ireland, Scotland, Wales), TSC (Canada), TVSN (Australia & New Zealand), HSE24 (Italy, German, & Austria) and Citruss (United Arab Emirates – 18 Countries) and Shopping LIVE in Russia.  
We are honored to be at the top of our color category on our networks, but what makes our ybf team proud is that we continue to carry products that meet the needs of all women no matter what her age, hair color, or skin tone. I attribute our success to being a brand about inclusivity, not exclusivity. That is something that will never change.
GCI: How has the consumer, market and industry changed in that time, and what has it meant for the brand?
SS: TV shopping used to be the only way for me to connect with viewers at home. Now, we are more connected than ever! Keeping engaged and having a dialogue with our viewers is what brought me to TV in the first place. In any country and in any language she wants to share—we share. With social media, we are able to share and engage with our ybf girlfriends daily. We build products around her wants and desires. I will always let women continue to build upon the brand and never think we as brand founders and ambassadors have all the answers. There are so many amazing and talented people in the beauty industry and they all bring so much to this vast category. Every day is a learning experience and I am honored to be a part of our fast-paced product category.
GCI: What's next for the brand and how do you see its trajectory in the next 10 years?
Brian Robinson: ybf beauty has tremendous potential. Upon the acquisition of the brand [in 2016 by Visual Beauty LLC], I was truly amazed at the quality of the formulations. Our short-term plans include increasing social media presence and ecommerce capabilities. Longer term, we see brick and mortar expansion and gaining key international distribution where the brand has already enjoyed strong sell-through. ybf has a deep connection with its "girlfriends" and we are looking to make sure that resonates with new customers and throughout any new channel we enter.