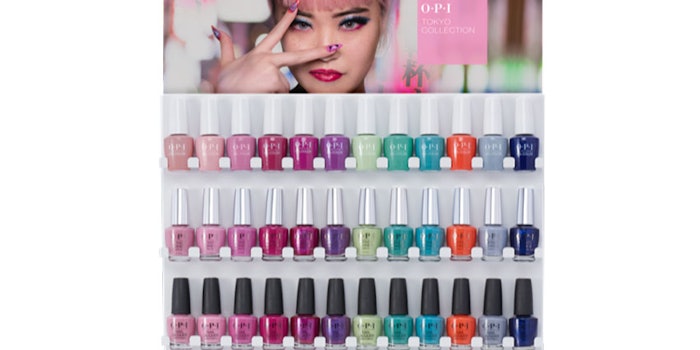 OPI has announced the upcoming launch of its Spring 2019 Tokyo Collection.
The 12-piece collection was inspired by Tokyo's energy and creativity, specifically its fashion-forward style and ultra-modern cityscape, OPI explained. The collection includes shades in classic Nail Lacquer, Infinite Shine and GelColor.
The Tokyo Collection 
Rice Rice Baby: A mauve shade;
Another Ramen-tic Evening: A dusty rose shade;
Arigato From Tokyo: An orchid shade;
Hurry-juku Get This Color: A berry pink shade;
All Your Dream in Vending Machines: An electric pink shade;
Samurai Breaks a Nail: A shimmering lilac shade;
How Does Your Zen Garden Grow?: A lime green shade;
I'm on a Sushi Roll: A teal shade;
Suzi-san Climbs Fuji-san: An emerald shade;
Tempura-ture is Rising: An orange shade;
Kanpai OPI!: A periwinkle blue and grey shade; and
Chopstix and Stones: A shimmering cobalt blue shade. 
In addition to the 12 shades, the Tokyo Collection includes six limited-edition colors which are meant to pay homage to the city's nail art innovation.
Just Karate Kidding You: A soft pink glitter shade;
Robots are Forever: A white glitter shade;
Left My Yens in Ginza: A gold shade;
Judo'nt Say?: A soft petal shade;
R U Happy 2 C Me? Lol!: A golden glitter shade; and
The Shade is Blossom: A cherry pink shade with gold glitter. 
OPI co-founder and brand ambassador, Suzi Weiss-Fischmann was quoted saying, "Tokyo is known for being on the forefront of nail trends—a perfect fit for OPI, where we don't follow the trends but set them. In this collection, we are revisiting the 80s and 90s, with pop colors that we've given a modern twist, taking inspiration from the famous Harajuku neighborhood. Tokyo brings so much life to this collection, from its eclectic fashion, vibrant nightlife and world-renowned cuisine to the rich traditions including matcha tea ceremonies and zen gardens... Tokyo is home to some of the most amazing nail art in the world, which is why we wanted to offer six additional shades that are perfect for creating a variety of unique looks."