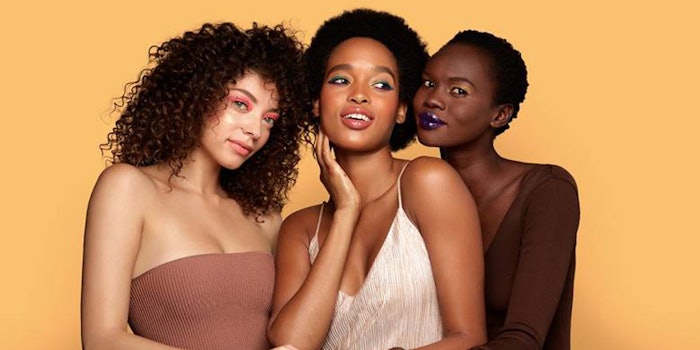 CoverGirl has announced the launch of its new Full Spectrum Collection.
The new line is meant to address the skin and color needs of women of color. The collection includes products for eyes, lips and face that were designed to pop against darker skin tones, CoverGirl explained. 
The Full Spectrum Collection
Matte Ambition All Day Shine Free Foundation—A matte, medium-full coverage foundation available in 20 shades for medium-dark skin tones. This foundation was created to be transfer resistant. 
Matte Ambition All-Day Shine Free Powder Foundation—A powder foundation meant to even out skin tone and blur the appearance of hyperpigmentation.
All Day Idol Brightening Concealer—A concealer intending to camouflage undereye circles as well as facial blemishes with the use of all-day brightening pigments. 
Contour & Correct Expert Cream Palette—An all-in-one palette meant to neutralize imperfections and accentuate facial structures for medium-dark skin tones.
Sculpt Expert Multi-Use Cheek Palette—An all-in-one palette created to "pop" against and compliment deeper skin tones.
Matte Ambition Skin Primer—A primer containing an invisible SPF layer meant to provide a shine-free finish.
Color Idol Satin Lipstick—A high-coverage lipstick that leaves a pigmented satin finish. 
Matte Idol Liquid Lipstick—A liquid lip color that dries with a matte finish and is meant to last up to 24 hours.
Gloss Idol Moisturizing Lip Gloss—A moisturizing lip gloss meant to provide high-shine coverage. 
So Saturated Quad Shadow Palette

—An eyeshadow quad created for deeper skin tones. 

So Saturated 8 Shade Shadow Palette—An eyeshadow palette available in three finishes: matte, shimmer and metallic. 
Defining Moment All-Day Eyeliner—An eyeliner meant to last all day and provide smooth, smudge-free application.