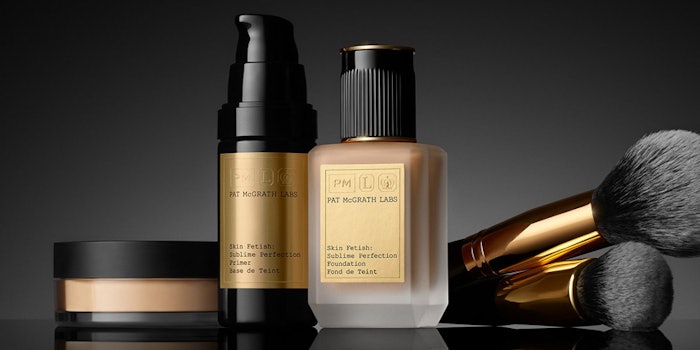 Pat McGrath Labs has announced the launch of its Skin Fetish: Sublime Perfection range of face makeup. 
The products include: 
Sublime Perfection Primer: The first step in the system, this "makeup meets skin care" primer is meant to prime, smooth, hydrate and renew skin while also preventing trans-epidermal moisture loss. Created to give skin a matte finish, the primer was formulated with hyaluronic acid. 
Sublime Perfection Foundation: The second step in the system, the buildable foundation contains a vita-serum complex meant to fight the formation of wrinkles by "

reserving the hydrolipidic film barrier of the skin and boost hydration by activating the natural production of hyaluronic acid and ceramides." Additionally, the foundation blurs the appearance of fine lines and wrinkles. Consumers can select from 36 color choices in five shade levels from light to deep tones. 

Sublime Perfection Setting Powder: The third step in the system, the powder was created to lend soft focus effects to the skin. The powder is buildable and was created to complement Sublime Perfection Foundation. 
Pat McGrath was quoted as saying, "These 36 shades comprise my ultimate kit, my backstage essential, my must-haves for men and women of all skin tones, sexualities and shapes."