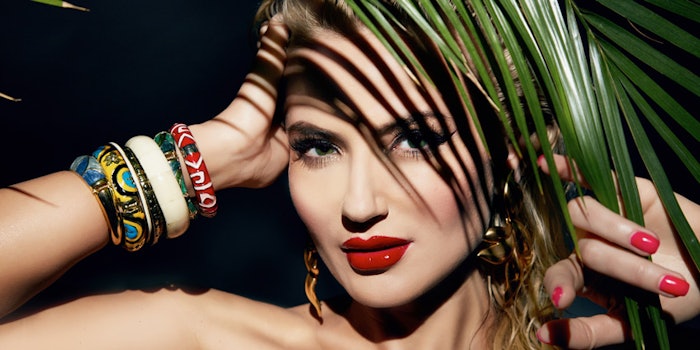 Tribe Dynamics has announced the 10 cosmetics brands with the most earned media value (EMV) during July 2019. 
Earned media value is Tribe Dynamics' proprietary metric for quantifying the estimated value of consumer engagement with digital earned media.
July's Top 10 Cosmetics Brands
Anastasia Beverly Hills' EMV decreased by 9% MoM to reach $62 million;
ColourPop's EMV increased by 14% MoM to reach $60 million;
Huda Beauty's EMV decreased by 10% MoM to reach $51 million;
Morphe's EMV decreased by 7% MoM to reach $43 million;
Benefit's EMV decreased by 4% MoM to reach $42 million;
MAC's EMV decreased by 6% MoM to reach $41 million;
Too Faced's EMV increased by 6% MoM to reach $39 million;
Fenty Beauty's EMV decreased by 4% MoM to reach $34 million;
NYX Professional Makeup's EMV decreased by 8% MoM to reach $30 million; and
Urban Decay's EMV decreased by 9% MoM to reach $28 million. 
Summer Slump
According to Tribe Dynamics, there is often a dip in content during the summer months, however, Shiseido-owned brands, including NARS, Laura Mercier and BareMinerals, avoided July's decline experienced by many of the Top 10 brands.
NARS 
Products meant to give skin a radiant, summery glow helped bolster NARS' $24.2 million EMV. NARS' Natural Radiant Longwear Foundation earned $3.6 million EMV and Radiant Creamy Concealer earned $3.2 million EMV. The products achieved 34% and 15% month-over-month EMV increases, respectively. The brand's Bronzing Powder generated $1.6 million EMV via mentions from 159 influencers, up from June's $1.3 million EMV and 145 content creators.
Laura Mercier
While the brand's influencer following remained relatively the same from June to July, each July influencer reportedly generated an average 6% more EMV than their June counterparts. As for products, Translucent Loose Setting Powder earned $9.3 million EMV—the product's highest monthly total year-to-date.
BareMinerals
The brand's EMV increased 15% MoM to reach $5.8 million in July. Ten percent of this is attributed to BareMinerals spokeswoman Hailey Bieber, who shared behind-the-scenes content and documented her travels to Tokyo with the brand. Additionally, the launch of Endless Summer Bronzer generated $381,900 EMV.