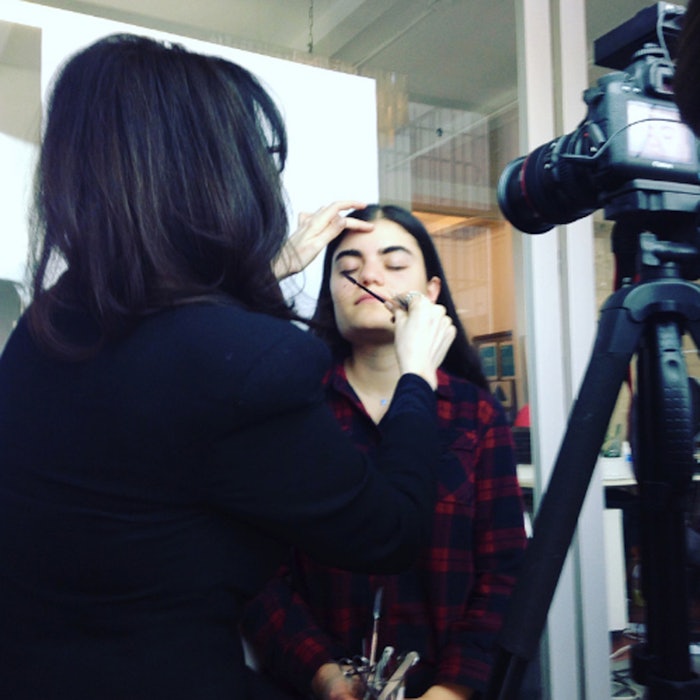 Von Freudenberg Enterprises
Jack Black once said, "You must never underestimate the power of the eyebrow." Caring for brows and keeping up with shape trends, including bold brows and bronze brows, is important in the beauty world.
Elke Von Freudenberg, eyebrow specialist​ at Von Freudenberg Enterprises, recently shared tips and trends, among other insight on brows, with Global Cosmetic Industry.
GCI: What is the story behind Von Freudenberg Enterprises?
EVF: Von Freudenberg Enterprises consists of our Brow Salon in NYC, where Elke specializes in eyebrow shaping and fixing and her signature brow makeup line—which is available online—in her salon and at select spas and salons across the U.S. She also certifies and trains other estheticians that carry her line in the Model Brow technique and service.​
With the return of the natural brow, keep brow makeup to a minimum.
GCI: What services/products/classes/etc. does Von Freudenberg Enterprises offer?
​EVF: We offer online certification to salons and spas that carry the brow collection to their estheticians and waxing specialists. The training is on eyebrow shaping, how to fix the brows and in the product knowledge of the product line. Elke's salon services consist of eyebrow shaping, depilar permanent hair removal for the face and lash/brow tinting. ​
GCI: Who is your customer?
EVF: My average customer is in her mid 30s to mid 40s. They range from clients trying to maintain their brows to those who are trying to grow them back from a bad wax/threading job. They are business women, fashionable women, busy women who are looking for a simple yet very effective product or solution.
GCI: What inspired you to start this business?
​EVF: I did photography makeup for years with celebrities and models in Los Angeles and New York and that led me to eyebrow shaping. I always had to fix uneven eyebrows on them, as on camera, it can look very uneven. This led me to develop my technique, which I now use on my clients. I opened my own salon in 2009 with a private clientele of over 2000 clients that come from all over the world. ​
When you trim the whole eyebrow, it makes the brow look shorter, thinner and choppy.
GCI: Why eyebrows?
​EVF: Eyebrows are very important in that they provide an impression of the person. If eyebrows are off, it makes the first impression off, which most people don't realize why, but they'll sense that something is off.
Uneven eyebrows can make someone look tired, sad or angry when they're really not. And a bad eyebrow wax or threading can ruin someone's appearance in mere minutes. I also work on clients going through chemo, eyebrow transplant surgeries, disfigurements and scars. I'm able to help these clients get their eyebrows back. ​
GCI: What shapes and styles can people see trending this summer/fall/winter?
​EVF: This summer/fall is bringing back the very natural looking eyebrow in a big way. The brow is thicker, longer and more natural looking as in it doesn't look neat and clean. There are no harsh lines in shaping anymore. I call it the Brooke Shields brow. It takes a bit to get the shape there, but the best part clients like is it's super easy to maintain. Gone is the overly drawn on, stenciled made up eyebrow. ​The more natural looking the brow, the better.
Most people don't realize how much they take off as they're "cleaning up."
GCI: How do you ideate new products and keep the brand relevant over time?
EVF: A lot of the brand is built upon what I see clients needing in my services; more growth, a better color, etc. I also do a lot of research in color theory and ingredients to find what works on several levels.
A color that can work with several skin tones is a better reach for a product than one that is very limited. And we're always coming out with new items based on the fashion and beauty trends that we see.
I find that the simpler I can make the product, the easier it is for the client to work with it and include it in their beauty routine.  A better color, an easier application, a simple more organic approach is always the goal when I work on new products.
GCI: What can people do to care for their brows?
EVF: The best thing to do is to be hands off for a while. Let the [brows] grow in. Most people don't realize how much they take off as they're "cleaning up." Also, be very careful who you go to. Look at their work and what they have done.
You have to be patient in letting eyebrows grow in.
Avoid a quick five minute service. The goal is to get a client in and out, not design the best brow for you. My service takes 30 minutes. Once a shape is determined and done, I can maintain that look every single time the client comes in.
GCI: What advice/tips/tricks can you give about eyebrows?
​EVF: You have to be patient in letting eyebrows grow in. Most people think in one month, brows will grow back. Not really. It takes five to six weeks for a growth cycle to come in and we can have as many as five to eight cycles growing. Sad news is that they don't all grow at once. ​So five weeks, one cycle has grown in ... which isn't much. It can take over a year for all the hairs to grow back.
The thicker and darker the hair, the faster it grows; and the thinner and lighter the hair color, the slower it grows.
Hair grows much quicker in the summer so it's a great time to grow out your hair and your eyebrows if needed.
You want your brow makeup shades to be neutral.
Avoid trimming the brows for a while, especially all the hairs from the arch down to the ends. You need that length to make the ends look thicker and fuller. When you trim the whole eyebrow, it makes the brow look shorter, thinner and choppy. You want to keep the ends long.
GCI: Any additional insight?
​EVF: With the return of the natural brow, keep brow makeup to a minimum. Use a brow pencil or shadow only where needed to avoid the brow looking heavy or too made up.
Take a soft spoolie brush and blend any brow makeup that you have to soften and look natural. Think of the brow makeup as a shadow. ​
Brow makeup when it looks wrong is either because of a wrong color or the wrong application.
If it looks too dark try blending down with a spoolie brush to soften. If the color lightens up enough, it will work. If the color doesn't lighten enough, it's too dark.
Avoid brow makeup with too much undertones in it or it will show up on camera. To check [undertones], swatch your brow makeup on a white card. For blondes, avoid green or gray. For brunettes, avoid orange or red. For black hairs, avoid too much gray or blue.  If you can see these colors in it, keep looking. You want your brow makeup shades to be neutral.