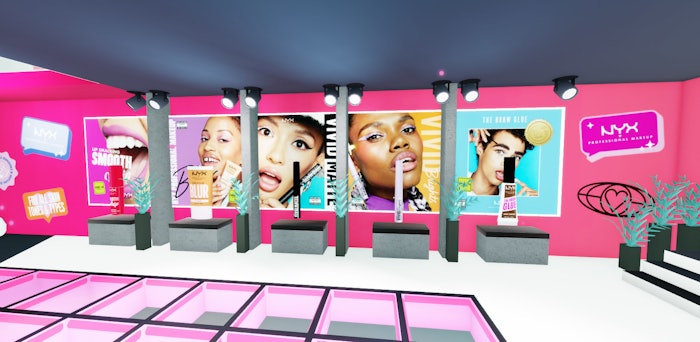 In July 2022, Accenture's Audrey Depraeter-Montacel noted, "The metaverse is much more than gaming. In fact, about 60% of millennials want to buy real-life products in virtual worlds. Even among baby boomers, one-third of consumers are interested in services such as consulting with experts in a virtual or augmented reality setting on topics such as hair or makeup tutorials."
Indeed, 2022 has been the year of metaverse-beauty collaborations, the latest of which is Nyx's forthcoming spring 2023 collection drop in iHeartLand on Roblox.
House of NYX Professional Makeup in iHeartLand on Roblox will feature three limited-edition looks inspired by the brand's newest product drop. Avatars can collect the looks and snap selfies on the brand's pink carpet.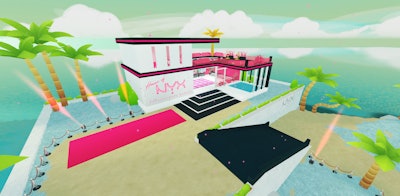 Users can also snap selfies with Nyx makeup artists' non-player characters (NPCs) and chat live with them. 
Featured SKUs include the Vivid Matte Brights Liquid Liner ($9), Smooth Whip Matte Lip Cream ($8), Vivid Matte Liquid Liner ($9), and Bare With Me Blur Skin Tint Foundation ($14). Products are shoppable at NYXCosmetics.com.
The experience begins today, December 19, 2022, exposing the brand to Roblox's 58.8 million daily active users, and continue into 2023.
"Every year at NYX Professional Makeup, we release our Spring Collection by surprising our community with an immersive, social, and interactive experience", said Vivianna Blanch, head of marketing at NYX Professional Makeup. "As one of the leading and fastest growing cosmetics brands, we partnered with iHeart, the top entertainment and leading audio brand, to drop our spring collection as they drop the latest in today's music. We are excited to immerse Roblox users into the world of entertainment, artistry, digital cosmetics and self-expression."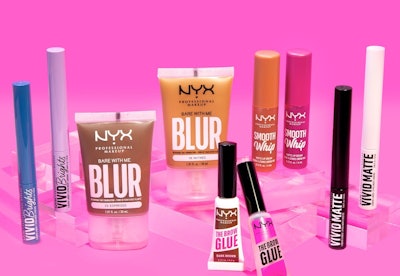 Roblox has been a go-to metaverse platform for beauty. Nyx previously featured the Color Quest experience on the platform, while Dove launched a self esteem project in the space.
And, this past Halloween, Roblox hosted Urban Decay and Paris Hilton's Paris World Cryptoween, featuring exclusive makeup looks from Urban Decay.