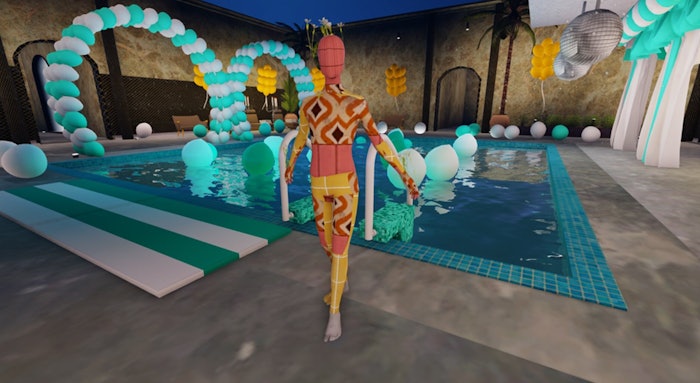 Roblox
There's a lot of buzz around the metaverse right now and how it might reshape the future of retail, and for good reason. Being able to inhabit persistent, decentralized and shared virtual spaces, and move seamlessly between them and the real world, will open up countless new opportunities for beauty brands.
See related: Beautysphere Launches P&G into the Metaverse
The ultimate vision for the metaverse isn't quite here yet but we're already seeing examples of digital spaces that blur the lines between real and virtual living. In fact, today's emerging metaverse encompasses a whole continuum of different immersive experiences—everything from 3D gaming platforms like Roblox and Fortnite to augmented and mixed reality smartphone experience—not all of which need expensive VR headsets to access.
Virtual Beauty Could be the Next Big Thing
The metaverse is much more than gaming. In fact, about 60% of millennials want to buy real-life products in virtual worlds. Even among baby boomers, one-third of consumers are interested in services such as consulting with experts in a virtual or augmented reality setting on topics such as hair or makeup tutorials.
In the beauty space, almost half of all consumers surveyed (including 42% of Gen X shoppers and even 23% of baby boomers) told Accenture that they're interested in buying virtual "looks" such as makeup or hairstyling that can be applied to their avatar or to themselves virtually through a digital filter.
It makes perfect sense. As consumers spend more time in virtual spaces, their digital selves become as important as their physical selves. There is now a potentially big market for "virtual beauty" products to meet that need.
We've already seen luxury brands dipping their toes into these virtual gaming worlds. Gucci, for example, created a Gucci Garden Experience on Roblox offering virtual "digital twins" of its products during the pandemic—even selling one for a higher price than its real-world equivalent. Nike has also created a Nikeland space on Roblox and is teaming up with NBA star LeBron James to offer basketball-specific virtual experiences. 
Blending Physical and Virtual
Of course, the metaverse isn't only about living virtually. It's also about how the physical and virtual worlds can be brought together to create truly integrated experiences.
This is one of the big priorities for beauty brands. Accenture's Technology Vision 2022 found, for example, 90% of retail executives think that leading organizations will push the boundaries of the virtual world to make it more real, increasing the need for persistence and seamless navigation between the digital and physical worlds. A further 72% think that the metaverse will have a positive impact on their organizations, with 45% believing it will be breakthrough or transformational.
Clearly, part of this is about integrating e-commerce into the metaverse—browsing and buying real products virtually with store pickup or home delivery in the real world. But retailers and brands will also need to think creatively about experiences that go beyond purchase.
In beauty, this could mean holding live streaming events and games in virtual worlds, or enabling personalized consultations and augmented reality try-ons—while making sure they're all seamlessly connected to existing analytics, e-commerce and digital payment capabilities.
Where Beauty Leads, Others Follow
Beauty is traditionally a technology leader and there are already great examples of metaverse experimentation. Take Charlotte Tilbury's recent expansion of its virtual store to include a video chat feature. The new capability allows consumers to chat with up to four people as they browse through the virtual shopping experience.
Then there's Estée Lauder's partnership with metaverse artist Alex Box to create an original NFT wearable for the Decentraland Fashion Week. Participants who joined the virtual experience were able to unlock a digital proof of attendance protocol and claim an NFT wearable to give their avatar a glowing aura.
Beauty brands are also using the metaverse to drive employee engagement and learning. Dermalogica's Natalia is a "virtual human" designed to help train staff members. That includes digitally simulating the aging process, so employees can better understand the science of skin care and tailor their customer recommendations accordingly.
 

Getting Started

For beauty brands still uncertain about the commercial viability of the metaverse, a good starting point might be virtual consultations and augmented reality try-on experiences. These concepts are popular with consumers: 54% told Accenture they're interested in participating in a virtual consultation in the next 12 months.

Brands looking to enhance their presence in the metaverse should also consider new partnerships—especially given the need to stitch together multiple technologies, skills and experiences while managing rapid technology evolution.

Those partnerships could include teaming with external technology expertise (as Fendi did with crypto experts Ledger) or with established NFT creatives (such as Gap's collection designed by Brandon Sines). 
Meet Beauty Consumers in the Metaverse
Ultimately, a brand's metaverse strategy comes down to customer engagement. The old business adage exhorts companies to "meet consumers where they're at." For growing numbers of people, for increasing amounts of time, that means the metaverse.
So, for beauty brands, it's not a question of whether to join them there, it's a question of when and how. Like the virtual world itself, the opportunity is potentially limitless.