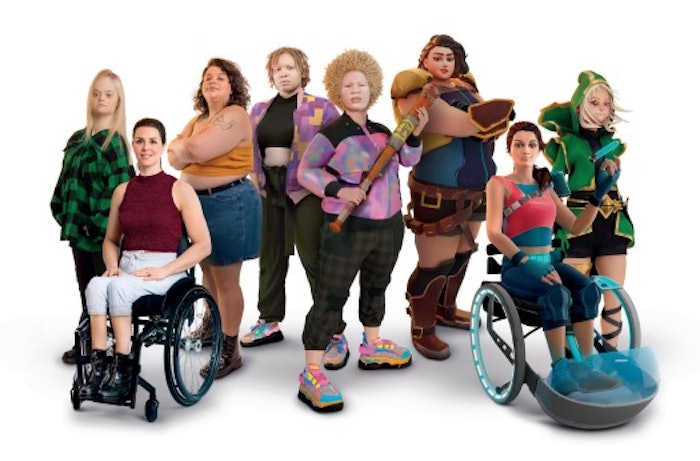 Dove is launching Real Virtual Beauty, a series of actions supported by partners across the games industry, to shatter beauty stereotypes and equip the next generation of young creators and players with the tools to build self-esteem and body confidence.
With a growing number of women and girls playing games than ever before, Dove is bringing this commitment to create a more inclusive virtual world.
Dove's Real Beauty in Games Training is a course developed in partnership with Centre for Appearance Research (CAR) and industry experts. Through this training, Dove is inviting game creators to help reflect the diversity we see in everyday life and to avoid contributing to stereotypes and biases in design.
Participants who have completed the course will have the opportunity to showcase their final works through the launch of an online "Real Virtual Beauty" character gallery, curated by Dove and available on Epic Games' Art Station.
The Dove Self-Esteem Project is debuting SuperU Story, the world's first Roblox experience—in partnership with Toya—designed to deliver self-esteem education.
New research from Dove—co-published with Women in Games, an international organization striving for equity and parity for all women and girls in games, and the Centre for Appearance Research (CAR)—reveals that the games industry still reflects narrow beauty standards, making many women and girls feel underrepresented, negatively impacting their self-esteem.
Leandro Barreto, Dove global vice president, said,  "At Dove we believe that beauty should be a source of confidence, not anxiety, in every aspect of life, both real and virtual. As part of Dove's social mission in confidence and self-esteem, we are taking steps to tackle negative stereotypes in the rapidly growing games industry. Through our work with Epic Games' Unreal Engine education team, Women in Games, and alongside the launch of SuperU Story on Roblox—we hope to make a real impact on the millions of women and girls who are spending their free time playing games."
Marie-Claire Isaaman, CEO, Women in Games, said, "The representation of women in gaming platforms, products and services has long been an issue. As activists, Women in Games has a key objective to support women and young girls in the games industry, and those who play games, so we are delighted to see Dove and allies in the games industry tackle this with the introduction of the Real Virtual Beauty character gallery and the Real Beauty in Games training program, as well as the launch of SuperU Story. What's so important here is that the innovative tools, and training reach the target audience, where there is the opportunity to make a real impact. Women in Games are resolutely behind supporting that to happen."