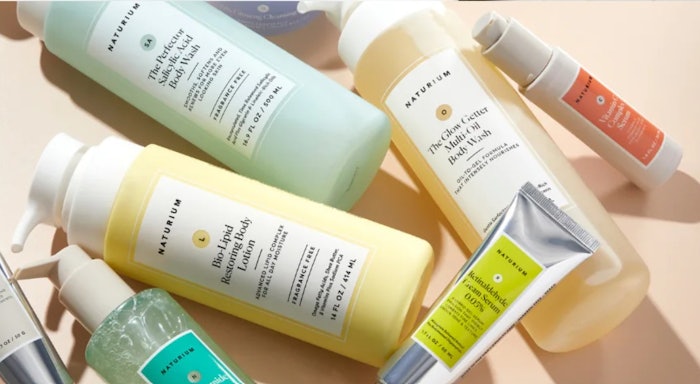 e.l.f. Beauty has signed a definitive agreement to acquire Naturium for $355 million. The transaction is expected to close around September 30, 2023. Naturium was originally founded at brand incubator The Center, originator of brands such as Phlur and Make Beauty, and, more recently, Prequel.
The deal is expected to double e.l.f. Beauty's presence in skin care to approximately 18% of retail sales. Last year, the company expanded its e.l.f. Skin as a standalone brand.
Naturium is expected to generate approximately $90 million of net sales and $17 million in adjusted EBITDA this year.
Naturium will continue to operate from its headquarters in Los Angeles.
e.l.f. Beauty expects to finance the transaction using available cash on hand, borrowings under e.l.f. Beauty's existing credit facility and approximately $70 million, or approximately 600,000 shares, of e.l.f. Beauty stock issued directly to founders and key management.
Tarang Amin, e.l.f. Beauty's chairman and CEO, said, "We are thrilled to welcome Naturium to the e.l.f. Beauty family. Naturium aligns with e.l.f. Beauty's vision to create a different kind of beauty company with brands built to disrupt norms, shape culture and connect communities through positivity, inclusivity and accessibility. Nearing two decades in business, we continue to deliver exceptional results. In August, we raised our Fiscal 2024 outlook after posting quarterly net sales growth of 76%, marking 18 consecutive quarters of more than 20% sales growth on average. e.l.f. Skin is one of the fastest growing skin care brands, and Naturium joining e.l.f. Beauty presents a unique opportunity to significantly accelerate the potential we see in skin care."
Susan Yara, Naturium's founder, said, "We've built an incredible brand, with numerous superstar formulas, a dedicated community and a world class team in less than four years. I have admired e.l.f., and their deep commitment to being a different kind of beauty company, for years now. They care about their community and their employees, which is truly meaningful to me, especially as a female founder. With our complementary missions and cultures, I know e.l.f. Beauty will be the ideal partner as we expand our reach, and continue to make high performance skin care accessible for all."