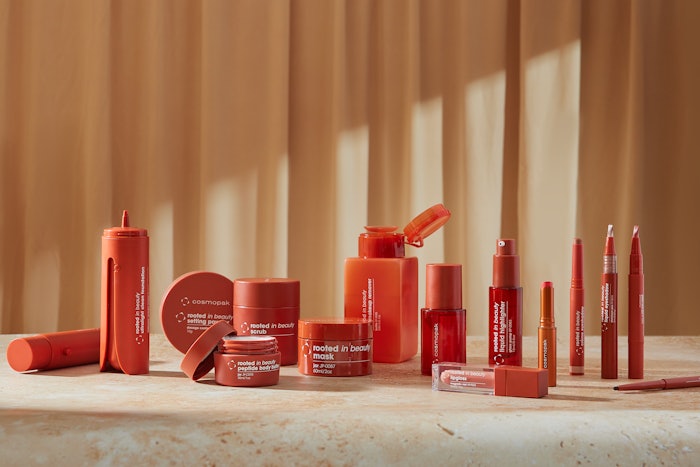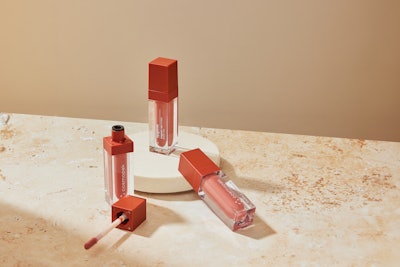 Cosmopak has unveiled its Rooted in Beauty turnkey collection of clean, high-performance color cosmetics, skin care and body care products. The collection compliments the recently released Eco Forward Collection.
The color innovations take cues from trends, including a trio of lip products. NIQ recently reported that in Q2, U.S. lip cosmetics sales grew 27%. Furthermore, Circana noted that lip makeup was the fastest-growing product category across the U.S. prestige and mass sectors in the first half of 2023.
Cosmopak's lip products include a lip gloss housed in the company's magnetic vial for quick release and easy application. Taking cues from the rising skinification of lip color, the gloss comprises ingredients that soften the lips.
The company's turnkey lip oil balm is housed in a a metal slim stick and features a sheer formula that affords a light application and subtle laydown of pigments. Its liquid lipstick pen, meanwhile, features Cosmopak's airtight twist design for mess-free and precise application.
The vibrant liquid shadow pen features a silky formula and high level of pearl with small reflective elements for an extreme effect on the eyes.
The ultralight clean foundation is housed in an Ecoforward refillable dispenser, while the clean liquid highlighter is housed in an Ecoforward glass pump bottle. Finally, the clean loose setting powder is presented in a dosage control jar that helps avoid messy application.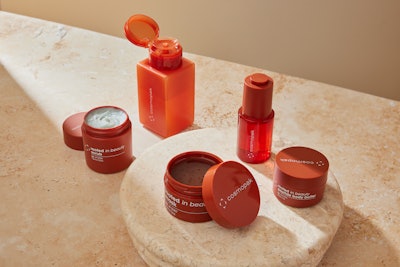 The turnkey collection's body care range includes a peptide body butter and exfoliating body scrub, both packaged in jars. The body butter features peptides to promote collagen production and improve skin elasticity. The exfoliating body scrub, meanwhile is formulated to remove dead skin cells for a smooth and radiant complexion.
The skin care range includes a clean exfoliating face mask comprising natural exfoliants to clean pores and brighten the skin. The formulation is housed in a jar.
The clean nourishing face oil, meanwhile, is housed in an Ecoforward glass push-button dropper and features nourishing oils to hydrate and enhance the skin's radiance, per Cosmopak.
"We are excited to launch our new turnkey collection that caters to the growing demand for clean beauty products, while not ignoring the importance of high performing formulas," said Walter Dwyer, CEO of Cosmopak. "Our team has put a lot of thought into developing these turnkey items with skin-loving ingredients paired with high-quality, sustainable and innovative packaging. We believe this collection will be a highly relevant with our clients and drive our speed-to-market product development strategy."