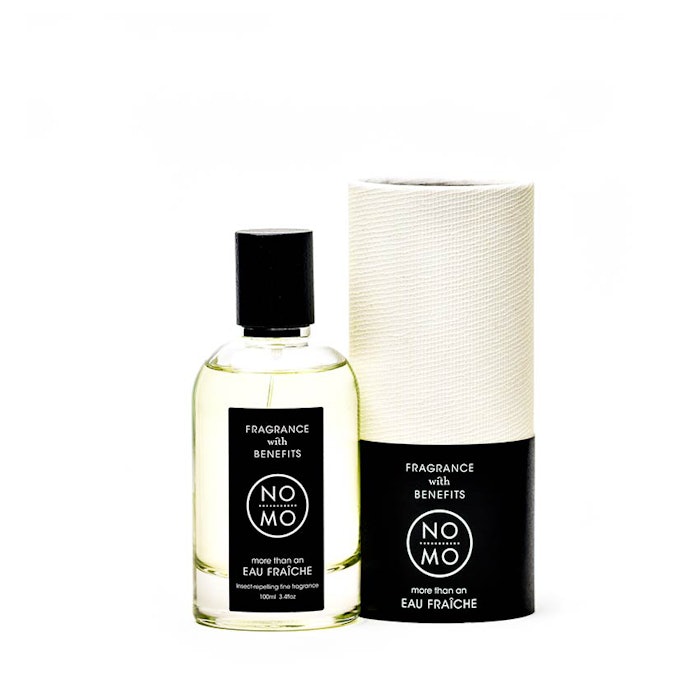 NoMo, a new line of fragrance and personal care products, offers a refreshing scent and natural insect-repelling power. The eau fraîche contains essential oils that combine scent and active benefits.
Formulated by perfumer Olivia Jan, who is "passionate about nature, travel and unlocking the secrets of essential oils," the scent's repellent power has been road tested in the Hamptons, the Caribbean and the Asian tropics.
The fragrance is composed of green Sicilian lemon, Florida orange, mint, lavender from Provence, Egyptian geranium leaves,  jasmine, white cedar wood and amber wood.
The NoMo line was launched by Fragrance with Benefits, which Jan co-founded with Corinne Gillespie.
The NoMo line comprises:
Eau Fraîche (100 ml/3.4 fl. oz) $85
Shower Gel (235 ml/8 fl. oz) $30
Body Crème (235 ml/8 fl. oz) $50
Eau Fraîche Spray; Pocket Size, shatterproof aluminum (30 ml/1 fl. oz) $30
Eau Fraîche Refill; shatterproof aluminum (120ml/4 fl. oz) $80
Travel Set $55