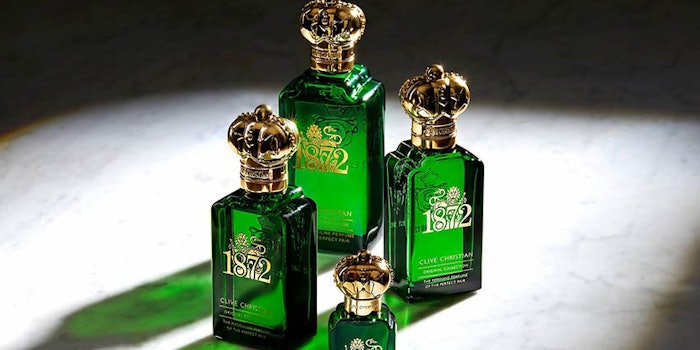 Nichebox has acquired British niche perfumery brand Clive Christian Perfume.
Nichebox will support Clive Christian's growth; the brand is currently found in more than 300 shops in 30 countries around the world, per Pambianco Beauty (Italian).
Founded in 1999, Clive Christian is an evolution of The Crown Perfumery Company, established in 1872. The most famous of its early customers, Queen Victoria, granted the use of an image of her crown on its bottles.
"Niche perfumery is the fastest growing segment on the market," Dino Pace, president and CEO of Nichebox, told the publication. "And this brand is among the leaders in the sector. This is our second acquisition and from here we will continue to build a portfolio of exclusive niche brands for our customers. We aim to develop a new platform for the brand and to invest in digital communication, as well as in commercial initiatives to attract new consumers."
Related: Niche 2.0: The Future of Fragrance at World Perfumery Congress
"In a growing and increasingly competitive market, I am thrilled that Clive Christian Perfume has been able to integrate into the Nichebox family," added Amy Nelson-Bennett, CEO of Clive Christian Group. "The brand will benefit from the experience of the Nichebox team and the synergies between its brands as well as new financial resources. Dino and his group have demonstrated the ability to appreciate the unique heritage of the brand, as well as our commitment to preserving the ancient traditions of perfumery. With them we will be able to achieve concrete growth objectives, providing value to the Nichebox range."