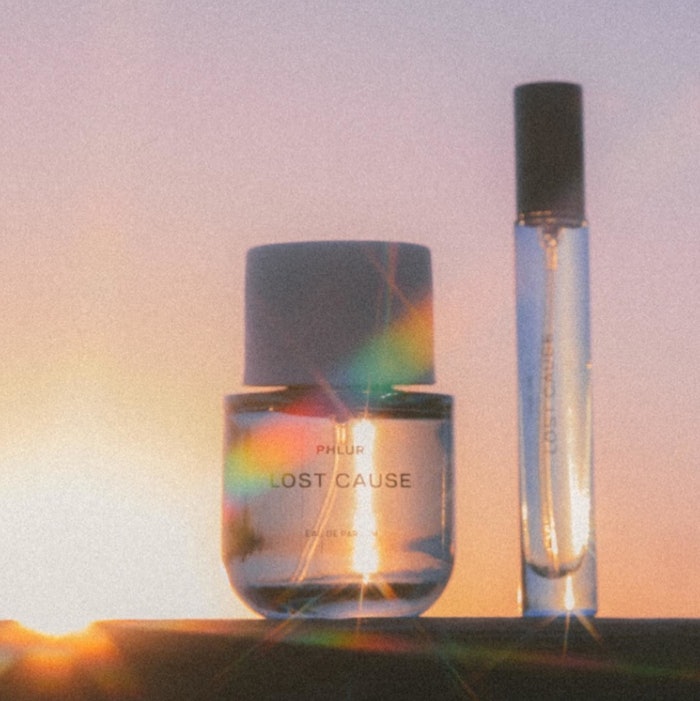 Trendalytics has broken down the top trending perfume ingredients for 2023, including more than a few familiar notes. The report highlights classic notes and a preference for unisex elements.
(Context: Q3 2022 U.S. prestige fragrance sales grew 11% year-over-year, totaling $1.3 billion, slower than the 18% and 13% growth witnessed in Q1 and Q2, respectively, per NPD.)
1. Pheromones
Pheromone fragrance concepts were all the rage in the late 2000s, though efficacy was difficult to quantify. The concept is getting renewed life.
In April 2022, Spate reported that there were 22.3K average monthly searches for pheromone perfume, representing a growth of 27.4% year-over-year.
There was low competition in the sector at the time, with Marilyn Miglin being the only market leader. However, the brand's Pheromone Eau De Parfum doesn't claim to contain pheromone-mimicking notes as other pheromone-centric fragrances might, per the report.  
Now, Trendalyitics points out that the hashtag #pheromoneperfume has 63.3 million views on TikTok.
2. Citrus
Citrus is a foundational element of perfumery. Per Trendalytics, "citrus perfume" searches are up 22% year-over-year, with volume spiking between November and December.
3. Musk
Musk scents generate about 9,700 average weekly searches, per Trendalytics, representing a 73% rise year-over-year.
Musk is a classic fragrance element, which has recently figured in unisex/ungendered scents, including Glossier You, which has enjoyed a nearly 500% year-over-year jump in searches.
4. Almond
Almond scent searches are up 68% year-over-year, again typifying a gender-neutral preference among shoppers. Almond figures in many fragrances, including Lake & Sky's Côte Du Paradis.
5. Neroli
Neroli is another classic scent element, which has enjoyed a year-over-year search gain of 101%, per Trendalytics. 
6. Jasmine
The final scent note on the list, jasmine, is (yet again) a foundational element of classic perfumery. There has been a recent 24% rise in searches featuring jasmine perfume products, per Trendalytics. 
Popular on TikTok, Phlur's Missing Person has boomed in searches by 3,299% year-over-year.