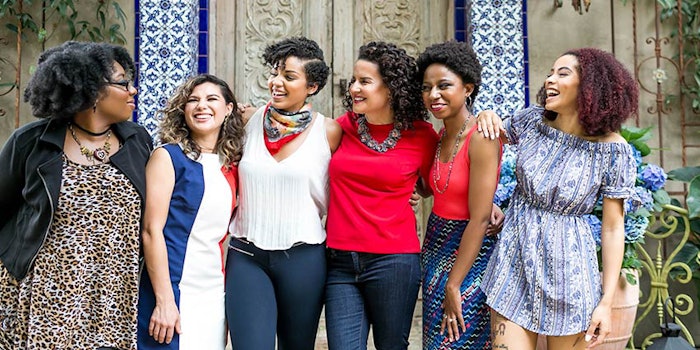 As the latest Cosmoprof North America kicked off in Las Vegas in July 2018, an important meeting was taking place in a private dining room at the Aureole Restaurant. Board members of the Global Beauty Alliance (GBA)—the leaders of some of the oldest and largest brands and distributors in the multicultural category—voted unanimously to change the name of the "ethnic" hair care category. The name of their category and all retail sections associated with it, they said, should be "textured hair."
According to Cornell McBride Jr., co-chairman of the GBA, "The term "ethnic" is outdated, marginalizing and no longer the most accurate or descriptive term for the products in this beauty category."
In making the decision, the group leveraged research conducted by TextureMedia, which revealed that consumers of all ethnicities prefer to shop for their hair products by names that described their hair, rather than their ethnic background.
Sitting in that room as they discussed this momentous change, it was humbling to know the role that TextureMedia (the parent company of NaturallyCurly.com) had played in the evolution of the category.
Creating a Curly Haven
When we started NaturallyCurly.com in September 1998, we did it because we wanted to make the world a better place for curlies like us. This was before natural hair influencers, before YouTube, before Facebook.
We just were three curly journalists frustrated by a lifetime living in a straight-haired world that all but ignored us, whether it be the lack of products available for textured hair, the absence of curly models or celebrities, or the dearth of stylists trained in how to work with curls and coils.
With NaturallyCurly, we wanted to create a curly haven to empower, inspire and educate the underserved majority with curls, coils and waves. 
The number of products in the multicultural/ethnic category today is more than seven times what it was 20 years ago.
In the beginning, NaturallyCurly was a hobby. We thought we might sell a few NaturallyCurly T-shirts. But we had the right message at the right time, and curlies found us. Our community grew quickly, representing all ages, ethnicities and textures. From the beginning, we were a truly inclusive community where people could share their stories and get information on how to work with their curls, coils and waves. 
Because consumers were flocking to us, brands and retailers soon followed. Within a year, we were contacted by a major consumer product company launching a line for curly hair. NaturallyCurly, they said, had the largest concentration of curlies of any media platform—both online and print. 
3 Ways Textured Hair Has Changed
Since NaturallyCurly launched in September 1998, a lot has changed. 
1. More people are accepting their natural texture.
Of those who have transitioned to natural hair, only 10% say they would chemically straighten again. Almost half have been natural five or more years. 
2. Explosion of curl brands.
The number of products in the multicultural/ethnic category today is more than seven times what it was 20 years ago, according to IRI.
NaturallyCurly has worked with more than 300 brands to launch their products to the curly market. More than 50 brands, including As I Am and Curls, launched exclusively on NaturallyCurly. More than 30 brands have developed their products with help from NaturallyCurly's market insights team, including Paul Mitchell, Bumble and bumble and DevaCurl. 
3. More stylists are curl-savvy.
There are more than 6,000 salons in NaturallyCurly's database, including more than 50 that have "curl" in the name. The site has helped hundreds of curl stylists build their businesses. 
"If you do a search in your area for a curly hair specialist, what pops up first is www.naturallycurly.com, and once the potential client reads your reviews it leads to consistent business," said Scott Musgrave, founder of Curly Hair Artistry, a worldwide network of curl stylists. "NaturallyCurly.com is foundational to getting discovered and helping you build your business." 
Further reading: The Holy Grail of Textured Hair Care
TextureMedia Takes Charge
Twenty years ago, we had no idea NaturallyCurly would grow into TextureMedia, a global media powerhouse. The platform has more than 16 million visitors per month and has established its place at the center of a grassroots movement that changed the way society views texture. It also facilitated the growth of an industry that served this underserved consumer. 
TextureMedia has become one of the top resources for brands and retailers looking to effectively reach this valuable consumer, providing key insights and consulting for product development and positioning, marketing campaigns and merchandising decisions. The company has worked with such companies as L'Oréal, Unilever, Target, Estee Lauder and Sally Beauty, as well as the many grassroots brands that have characterized this dynamic category. 
"We hand-in-hand transformed this marketplace."

"Because of the service NaturallyCurly provided us—virtually from day one—it gave us an opportunity to co-develop and co-brand the multicultural beauty space," said Richelieu Dennis, founder and chief experience officer, Sundial Group, the parent company of SheaMoisture. "We hand-in-hand transformed this marketplace." 
In September, NaturallyCurly will kick off its fourth Texture on the Runway show during New York Fashion Week. The event has become a staple of Fashion Week, attracting more than 750 of the top influencers and media to last year's show. This year's event will be held September 6, 2018, at Gotham Hall, with seven of the hottest brands in the textured-hair category taking their interpretations of texture down the runway: Camille Rose Naturals, Cantu, Carol's Daughter, Crème of Nature, Mielle, SheaMoisture and The Mane Choice. Sally Beauty is the event's retail sponsor for the second year in a row.
"NaturallyCurly is driving the category," said Sarah Zieman, global beauty manager for Cantu. 
As the hair care category catches up to the times, serving the curly consumer is more important than ever.