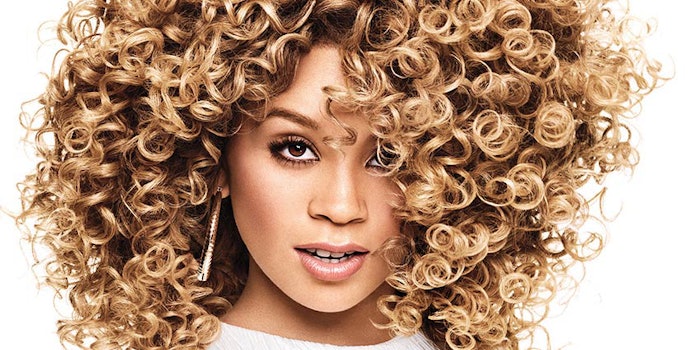 The textured hair category—particularly curls—is undergoing a significant evolution, according to several experts and brands in the hair care world. Significantly, natural hair concepts have begun to span traditional ethnic silos, creating new mainstream approaches to designing brands and products.
TextureMedia's TextureTrends 2016 noted that the textured hair care category was created by consumers who suffered a lack of relevant products for their wavy, curly and coily hair, which should be surprising, considering that more than 60% of the population has naturally curly, coily or wavy hair. The report concludes, "It is a market that cannot be ignored."
Brands Catching Up
There have long been brands focused on multicultural consumers, which have a deep knowledge of their consumers' needs, including ingredient concerns. One example, among many, is London-based Twisted Sista Salon Performance Styling Products, which recently introduced larger sizes and an organic coconut lime fragrance.
The paraben- and sulfate-free products tackle curl concerns by offering moisture, frizz control and styling options. The line now includes the Frizz Control Straightening Blow Dry Cream (7.5 oz), which keeps hair straight, smooth, soft and protects hair up to 450 degrees of heat from a blow dryer or flat iron. Other products in the line include Luxurious Clarifying Shampoo, Intensive Leave-In Conditioner, 30-second Curl Spray, Curl Activator Crème and Amazing Dream Curls Gel. The line includes ingredients such as coconut, avocado and almond oil.
Meanwhile, Dove Hair has embraced the curl trend with the launch of its recent #LoveYourHair campaign, which seeks to "broaden the definition of beautiful hair by celebrating all hair [types, textures, styles, colors] and inspiring real women to do the same."
"[E]ven though one in three women in the U.S. have naturally curly hair, they can't find emojis on keyboards that look like themselves."
The effort specifically targets traditional narrow perceptions of what hair types are considered to be beautiful. Dove Hair explained that 86% of U.S. women believe that media and society put a lot of pressure on women to have hair that looks a certain way.
A few months earlier, Dove Quench introduced the Dove Love Your Curls Emoji Keyboard to correct the longstanding dominance of straight-haired female emojis. The new emoji keyboard is available for free on the Apple App Store and Google Play, featuring 27 curly hair designs with selectable skin tone and hair color, resulting in 131 variations.
"When 73% of people in this country claim to use emojis every day, they're very quickly becoming the new currency of communications," said Rob Candelino, vice president of hair care marketing. "But even though one in three women in the U.S. have naturally curly hair, they can't find emojis on keyboards that look like themselves."
#StrongIsBeautiful and #HairTruth
Pantene has partnered with R&B/soul singer Jillian Hervey, lead singer of Lion Babe, for the #StrongIsBeautiful TV, print and digital advertising, in-store, public relations and social media campaign, which offers insights into strengthening curls and fighting frizz.
Pantene's latest initiative seeks to move the frizz conversation from a focus on humidity to the subject of hair strength. As such, the campaign will highlight the Pantene Pro-V system. #StrongIsBeautiful also resets the brand's focus on long, straight hair to one that embraces all hair types and textures.
"Once I really started to embrace my curls, my entire world changed, and it's made me the woman that I am today," said Hervey. "Keeping my curls strong and healthy is so important, and thanks to Pantene, I've finally uncovered a routine that allows my curls to be practically frizz-free."
Similarly, P&G has expanded its My Black is Beautiful (MBIB) #hairtruth program with a partnership with celebrity natural hairstylist, Felicia Leatherwood. The campaign declares "healthy hair is the truth" and features brands like Pantene's Expert Collection, Head & Shoulders' Moisture Care Collection, Herbal Essences' Hello Hydration and Aussie's 3 Minute Miracle Moist. The initiative will include hair education and styling tips on social media, as well as educational webisodes.
Curls Run the World
Sephora's "It's a Curl Thing" campaign is making it easier for consumers with curly hair to find hair care products on its website. The limited-time section divided curly hair into four types—wavy, curly, coily and tightly coiled—with a definition under each type.
When a consumer clicked on the hair type according to the guide, she would see different products that she could use on that specific hair type. The products were organized with shampoos, conditioners and detanglers, hair masks and treatments, stylers and hair oils for each type. In addition, there are helpful tutorial videos.
Sephora also partnered with MadameNoire, an African American lifestyle site, to launch a four-part digital series, "Curls Run the World," featuring natural hair influencers, including hairstylist, Monica Stevens (Mo Knows Hair), fashion blogger Yolanda Renee, Rozonda 'Chilli' Thomas (lead singer of TLC) and poet Aja Monet.
The series focuses on black women embracing their hair types, as well as products aimed at particular textures. With new marketing campaigns surfacing daily, as well as the growing realization of the power of the multicultural market, the beauty agenda is expanding to encompass every hair type for every consumer. 
Curly Haired Consumers by the Numbers
81% of female hair care consumers feel that the hair depicted in advertising and the media makes women feel bad about their own hair*
11% of women love everything about their hair and wouldn't change anything about it*
90% of women agree that they need to embrace their own hair and stop comparing themselves to others*
75% of women believe they would have greater self-confidence if they didn't feel that they were being judged by their hair*
10% of women and 40% of girls like their curly hair**
Coily-haired consumers spend an average of $37 a month on products, 20% more than straight-haired consumers***
77% cocktail products on a regular basis***
47% rank reviews as the most important purchasing consideration of a new product***
44% rank ingredients as the top purchasing consideration of a new product
50% say a sample encouraged them to purchase a product***
54% consider shea butter the most desirable ingredient, followed by argan oil
11% of coily consumers rank frizz as a concern, while 46% of wavy-haired consumers rank it as their top concern***
42% of women with coily hair wear their hair natural most of the time***
47% of these women rank ingredients as a top purchasing consideration of a new product***
*Dove Hair research; **Dove Quench research; ***TextureMedia's TextureTrends 2016 report (www.texturemediainc.com)