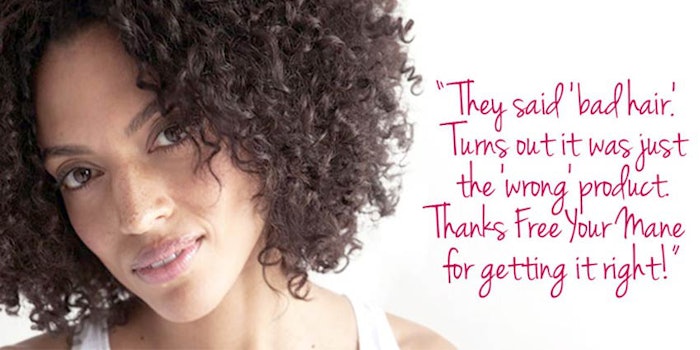 Israel Segal, founder of hair care brand Free Your Mane, has coarse, curly hair, which often led him to shop in the often underwhelming "ethnic" hair care section of the drug store.
So, when he adopted African American twins Ziggy and Nola, he set out on a mission to develop effective products for textured hair that were free of harsh ingredients such as parabens, phthalates and sulfates.
Effective, Clean and Modern
Segal noted that he wanted consumers to feel good about their hair, and so has worked to educate consumers with textured hair about effective ingredients.
The Free Your Mane formulations address fine, kinky, coarse, curly and wavy hair and are built around key ingredients such as pomegranate seed oil, sweet almond oil, wheat amino acids, retinyl palmitate, avocado oil, aloe leaf juice, pearl powder and shea butter. However, baobab oil is the brand's true hero ingredient.
The cold-pressed material is nutrient-rich and has a good molecular weight. Free Your Mane is able to benefit the producers of the oil, adding an extra dimension of ethics to the brand.
Evolution of a Brand and Category
Segal launched the brand five years ago as a one-man show. The original line was tightly curated, containing just a shampoo, conditioner and hair oil in order to avoid consumer confusion. Later, he added styling products.
At the same time, Segal worked to build the brand persona to target the marketing, especially online, in venues in which consumers seek hair care solutions. In conversation with Global Cosmetic Industry, Segal described his products as effective, clean and modern, and has marketed them with beautiful images that eschew traditional beauty marketing artifice in favor of realism.
Segal brought on an outside CEO and CMO as the demands of the brand grew. The additional help allowed him to focus on social media engagement, providing education through blog posts and otherwise connecting more directly with consumers.
Meanwhile, Segal explained, the market's expectations of different segments—mass, masstige, luxe, etc.—changed, allowing brands to be marketed in a broader spectrum of settings.
Simultaneously, the definition of textured hair has broadened and matured to embrace hair that is heat damaged or even chemically processed. Segal has found that, today, many women are damaging their hair due to recreations of YouTube tutorials that can involve harmful devices.
Bad Hair or Bad Products?
For Segal, bad hair isn't about "bad hair," but rather bad/inappropriate products. Today, he said, it's not enough to just add body, shine or color protection—hair care brands need to deliver all of these elements.
While peers may seem accessible, they're typically too preoccupied with their own projects and don't have time to be an effective mentor.
He added that textured hair brands shouldn't focus on the race/demographic of the consumer but rather the character of their hair—particularly because many people have multiple textures within any given racial group, not to mention among multiracial consumers.
Today, Free Your Mane offers more styling products, including a forthcoming curl cream. And the brand continues to educate about effective and safe products for textured hair. Free Your Mane has expanded its distribution online, at pop up shops, retailers such as Anthropologie and smaller consumer events such as Black Girl Beautiful. And, now, it's expanding to target consumers with specific hair challenges, like surfers. 
Lessons for Success
In conversation, Global Cosmetic Industry asked Segal for his insights into successful brand stewardship. Below are a selection of his comments.
Find a mentor that you trust. To get the best insights for your career, Segal suggests going to the top. It's the leaders in the industry who often have the time and generosity to share their experiences. While peers may seem accessible, they're typically too preoccupied with their own projects and don't have time to be an effective mentor.
Step away from your brand. As Segal learned in the early bootstrapping days of Free Your Mane, it's difficult to outsource. But, once a founder has the resources, he recommends that brand leaders outsource anything and everything they're not strong at. By not trying to do everything or getting overly involved in all aspects of the business can lead preserve a founder's perspective, he added. Doing this well requires the assembly of a team that can balance out one's own weaknesses.
Read more in our series of founder stories: "Action is the Best Thing You Can Create."