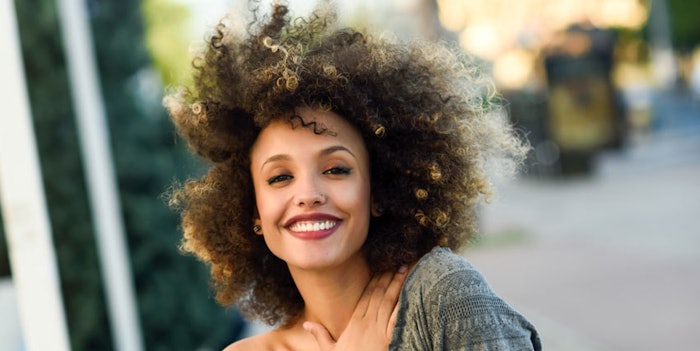 The original title of this piece, "70% of Women of Color Prefer to Wear Hair Natural," has been updated for accuracy.
Cocotique, a subscription service for women of color, and Hair RX Advanced Hair Care recently collaborated on the 2018 Women of Color Hair Care Report. 
Survey participants were made up of 1,200 female Cocotique subscribers. 
The Report Found...
70% said they prefer to wear their hair natural

—curly, coily, kinky or fro;
11% prefer relaxed or protective styles;
6% prefer to straighten their hair with heat;
2% prefer locs;
84%value the ability to customize hair care products;
98% feel it's important for hair care products to be paraben free, sulfate free and safe for chemically treated hair;
90% prefer luxurious lather to light lather in shampoo;
39% prefer a coconut scent;
22% lavender;
16% jasmine;
12% citrus; and
10% vanilla.
"Customization is a strong trend in hair care, especially among women of color," says Dana Hill, founder and CEO, Cocotique. "Women of color have a wide range of textures and it's difficult to determine which product works best for a particular texture. It's important for companies to embrace and celebrate this uniqueness."
"Respondents indicate a variety of preferences, which is why HairRx provides 165 formulations, each designed to address specific hair care goals," says Ellen Langas, co-CEO of ProfilePro LLC, the parent company of HairRx. "We invite customer feedback and utilize survey results like to provide the ultimate customization experience."